October 7, 2022
UIW's Military and Veterans Center Hosts Art Event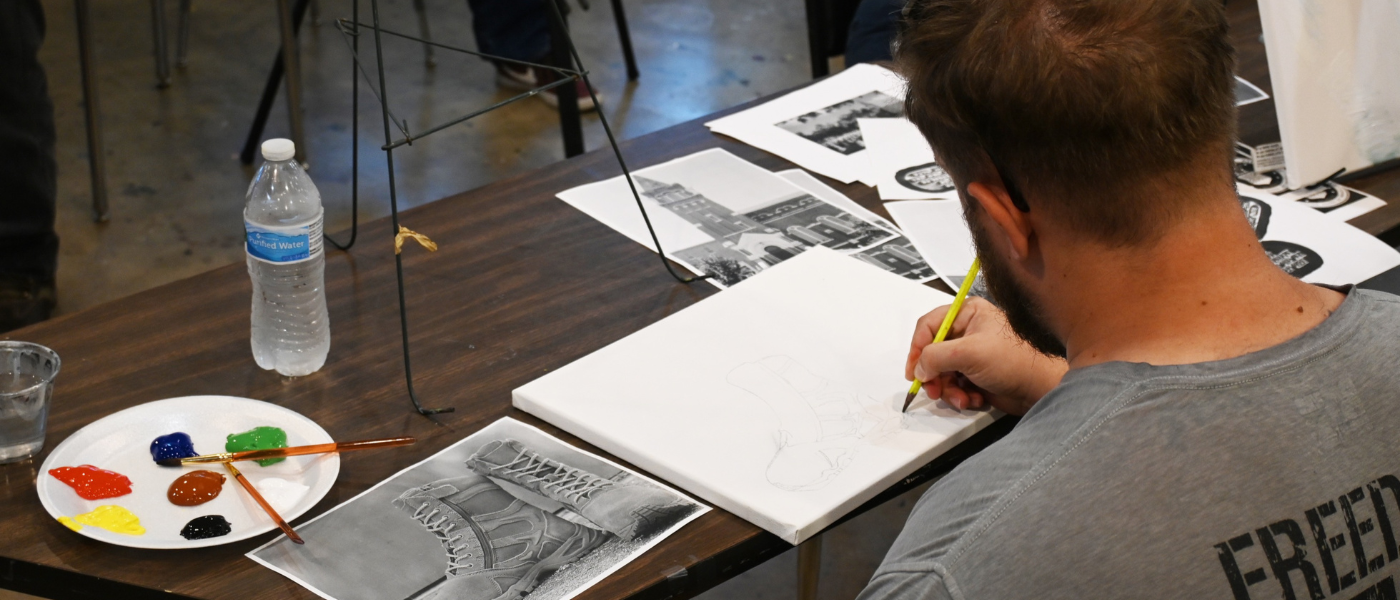 "We wanted to create a sense of belonging and help with the transition from military to college life."
This is how Phillip Rangel, a United States Air Force veteran and team leader for the Peer Advisor for Veteran Education (PAVE) program at UIW, described the purpose of a recent painting event the University's Military and Veterans Center held. Titled Kevlar to Canvas, the event featured 32 artists who participated in a three-hour art session guided by Dr. Miguel Cortinas, chair of the UIW Art Department. The event was open to all military-affiliated members of the UIW community.
"The most important aspect was to create a fun, relaxing and peaceful environment for the participants to explore the arts and meet others who are like themselves," said Rangel, who is also president of UIW's Student Veterans of America chapter. "We also felt it was important to include family members and loved ones, because they have also made sacrifices of their own throughout the veteran's military service by giving their selfless support."
"I am exploring my trauma from my deployment to Iraq and being able to participate and use art as a way to express my feelings and relax is such a great way to spend time," shared Monica Baietti, a doctoral student studying Philosophy. "I thought I could use the time painting to gain focus about what I am trying to accomplish with my research and to remind myself that being this vulnerable is healthy, because no matter the outcome, I am going to come out a stronger person."
The Veterans of Foreign Wars Post 8541 provided a donation to purchase the art supplies. Each participant started with a blank canvas and selected what they wanted to paint. Cortinas provided numerous images of iconic structures related to UIW, such as the clocktower, as well as military symbols like combat boots and dog tags. These images helped evoke each artist's imagination as they worked with the paint.
"The professor who taught the class was so well prepared and had ideas for students to use, which was so helpful," said Baietti. "It was nice that he made everyone feel so comfortable; he kept encouraging us throughout the class. I still feel happiness when I think about this experience and how much fun I had creating art."
For many of the student artists, this was their first time painting a picture in such a setting. Partway through the event, some of the artists became frustrated with their work. A seasoned art teacher, Cortinas asked the class to move their paintings into the hallway. The class lined the wall, stepped back and examined their paintings from further away.
"When an artist is working up close to their painting, it is easy to become discouraged because of the imperfections one sees up close," Rangel recalls, sharing the lesson Cortinas taught through this exercise. "However, when the artist steps back from the art and looks at the painting as a whole, the imperfections disappear by blending in with the entire piece of work."
The goal of the event was twofold, said Rangel. They wanted to build engagement between the University and the student veteran population. They also wanted the student veterans and their families to see that UIW is a great place to pursue their education and has their best interests in mind.
After planning Kevlar to Canvas throughout the summer and finally seeing it come to life, Rangel was in awe of the artists and their efforts.
"There are no words that can describe my feelings," said Rangel. "It was so rewarding to create an environment where our veterans and their supporters could be creative and paint what was on their minds."