DSE Dean Receives Ben E. Coody Distinguished Service Award
October 26, 2022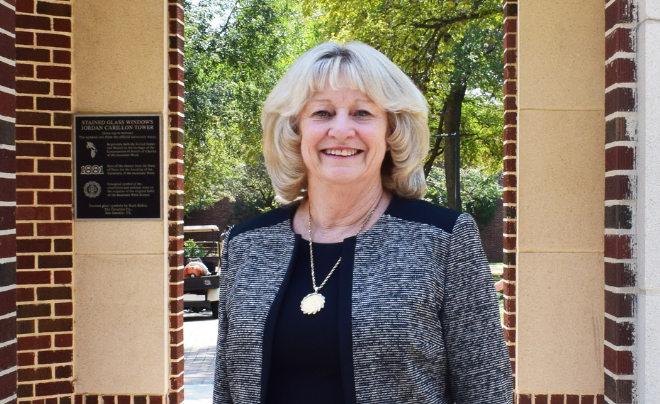 Dr. Denise Staudt, dean of the Dreeben School of Education (DSE), was named the Ben E. Coody Distinguished Service Award recipient at the 2022 Consortium of State Organizations for Texas Teacher Education (CSOTTE) Teacher Education Conference. CSOTTE is a nonprofit organization dedicated to the continual support and refinement of preparation and development programs for certificated school personnel in Texas. This award honors individuals who have given the same level of professional contributions to teacher education in Texas as did Coody, who served as the last president of the Texas Association for Student Teaching before the association became the Texas Association of Teacher Educators in 1971.
"It is certainly a very proud and humbling experience for me to have been selected to receive this award," said Staudt. "I want to sincerely thank the Texas Association of Teacher Educators for recognizing my service to the organization and the teaching profession."
Staudt has served as the dean of DSE for more than 15 years, overseeing the Teacher Education Department and Graduate Studies Department. Prior to her career in higher education, she was a kindergarten teacher, a junior high English teacher, a high school librarian, and an elementary school librarian. In addition to her degrees, she holds credentials in English as a Second Language, and as an All Level Learning Resource Specialist, Mid-Management Administrator and Reading Specialist.
Staudt has served as president of many state organizations, including the Texas Association of Colleges for Teacher Education, Education Deans of Independent Universities in Texas, Texas Association of Certification Officers, and Texas Association of Teacher Educators. Staudt has been recognized at the local, state and national levels for her work in teacher education.