October 6, 2022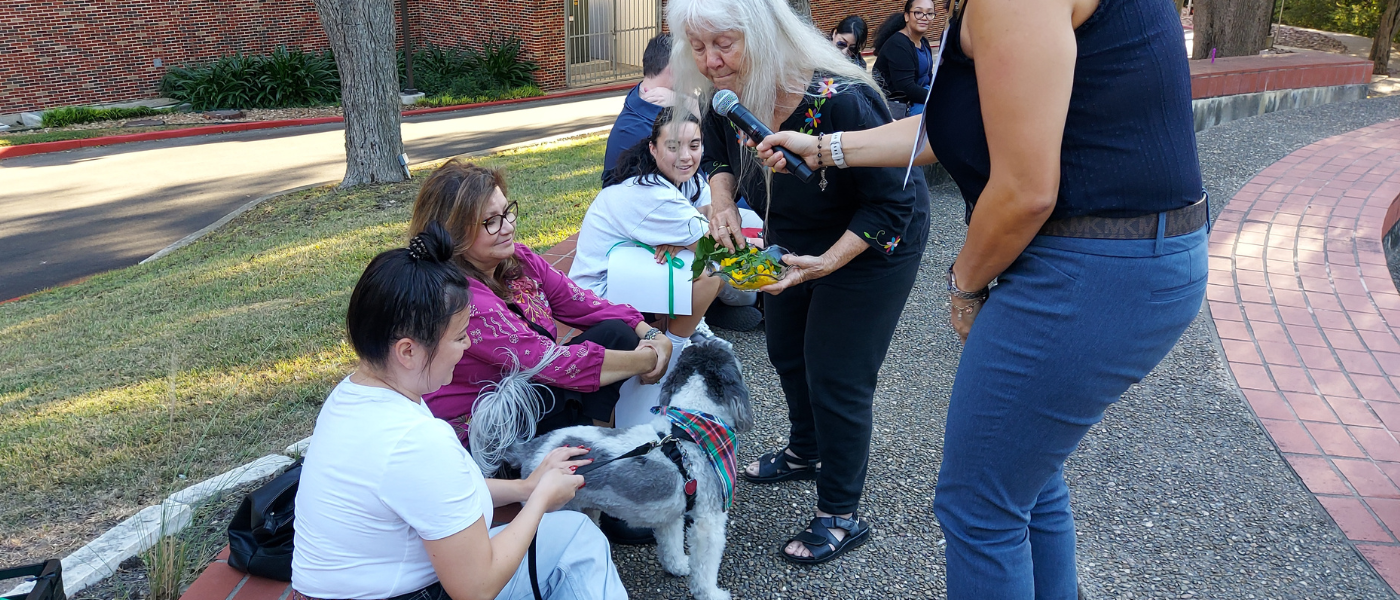 The UIW community celebrated the Feast of St. Francis of Assisi with the annual Blessing of the Animals on Tuesday, Oct. 4. For many, the animals that live in their homes are not just "pets," but are part of their family.
The campus community was invited to bring pets or images/representations of their pets to the annual Blessing of the Animals event hosted by Sr. Martha Ann Kirk, CCVI. Michael Castilleja, UIW's director of Procurement, and his pup, Leia, have been attending the event for seven years.
"I am very lucky to have Leia by my side and she blesses me daily," said Castilleja. "I feel this event signifies my love and appreciation of her. She remains healthy, youthful and active, and I feel this blessing that Sr. Martha Ann Kirk does plays a part in that."
During the event, participants enjoyed singing, praying and fellowship. Owners introduced their pets to the group and Sr. Martha Ann blessed each one.
"Leia has become part of my life and I feel I have become a more responsible person because of her," added Castilleja. "Blessing her annually keeps her…us…at peace. We are all creatures of God and we can all use a little blessing at times."
The Feast of St. Francis of Assisi marks the end of the celebration of the season of Creation under the theme "Listen to the Voice of Creation" from Exodus 3:1-12. The Feast of St. Francis invites us to celebrate our interconnectedness to nature as a university. Pope Francis tells us that nature cannot be regarded as something separate from ourselves or as a mere setting in which we live. Read more from Fr. Hector Kalaluka, OMI about the Feast of St. Francis of Assisi.