Visiting Dreeben Professor named Fellow of HACU's Leadership Academy/La Academia de Liderazgo
September 16, 2022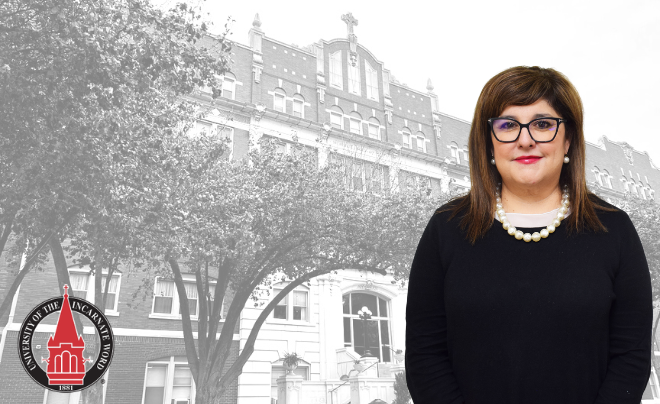 Dr. Grace Gutierrez, visiting professor of Graduate Studies in the Dreeben School of Education, has been named a fellow in the Hispanic Association of Colleges and Universities (HACU) Leadership Academy/La Academia de Liderazgo for the 2022-2023 academic year.
"I am very impressed by Dr. Grace Gutierrez's academic merit and promise that earned her the HACU fellowship," said Dr. Denise Staudt, dean of the Dreeben School of Education. "I have witnessed firsthand her hard work, patience and dedication, and I am certain that the project she develops for the Dreeben School of Education will be beneficial to the administration, faculty and students. We are privileged to play a part in Dr. Gutierrez 's fellowship program.
Gutierrez joins a cohort of leaders chosen who will be mentored by nationally recognized administrators. The fellows will also develop a project that benefits their home institution. The one-year fellowship program is designed to prepare the next generation of culturally diverse leaders for executive leadership roles in higher education at Hispanic-Serving Institutions (HSIs).
"Walking across the University of the Incarnate Word, I felt incredibly humbled by the people, past and present, who make up the student body and the history of the UIW institution," commented Gutierrez. "I am honored to be part of those compelled to be of service, that we are all compelled to respond to help beyond our own needs."
Gutierrez has a wide range of experiences, having spent more than 20 years in leadership and management within educational administration, systems evaluation, and strategic planning.
She held positions with the Texas Education Agency, the Department of Defense Education Activity, McREL International, and as a college instructor for new teacher educators. She has served educational leaders across the contiguous United States, Puerto Rico, Guam, Japan and Germany. In addition to teaching classes in DSE, Gutierrez currently holds a position on the Board of Directors for the Boulder County "I Have a Dream" Foundation.
Fellows participate in an array of leadership development activities preparing them for roles in the full spectrum of institutions of higher learning, with an emphasis on HSIs and emerging HSIs. Gutierrez looks forward to using what she learns in the fellowship to inspire her students.
"I welcome all of my students this year to think about what they are compelled to do beyond graduation and in the world in general," added Gutierrez. "I look forward to being part of their journey as a visiting assistant professor and am grateful to HACU and to the Dreeben School of Education for their support and guidance during the upcoming academic year."