UIW's Lewis Center of the Americas Hosts Kickoff Event for "Welcoming Week 2022: We Belong in San Antonio"
September 2, 2022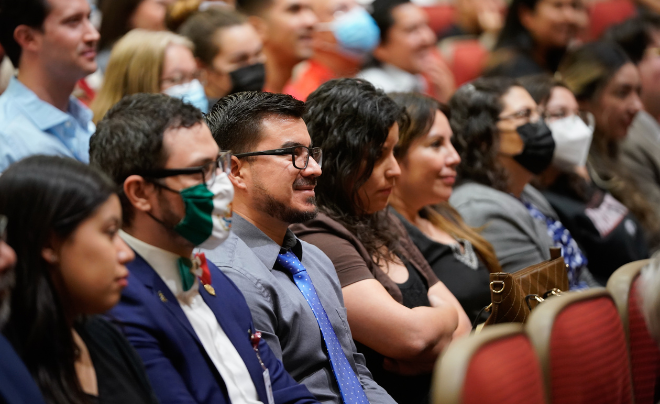 The UIW Liza and Jack Lewis Center of the Americas is hosting the official kickoff event for "Welcoming Week 2022: We Belong in San Antonio" at 6 p.m. on Thursday, Sept. 8, in the Student Engagement Center (SEC) Ballroom on the Broadway campus. The event is organized by the City of San Antonio's Office of the Immigration Liaison and CIELO Unity in Action. This year is the 10th anniversary of Welcoming Week, which was created by the non-profit organization Welcoming America. The event runs Sept. 9-18, with UIW's "kickoff" event occurring on the eve of the first day. The kickoff event is free and open to the public, but registration is required. Register for the event here.
"Welcoming Week is a week-long series of events that will take place in multiple cities around the United States," explained Rafael Hoyle, director of the Lewis Center. "The goal is to bring together people of all backgrounds, including our immigrant brothers and sisters, to build connections in an open and inclusive environment."
During the kickoff event at UIW, opening remarks will be delivered by Mayor Ron Nirenberg, Texas State Senator José Menéndez, County Commissioner Rebecca-Clay Flores, UIW Associate Vice President of Diversity, Equity and Inclusion Dr. Arturo Chávez, and Lewis Center Director Dr. Rafael Hoyle, who will speak about the Center's recent focus on the topic of immigration. Attendees will then hear a poetry declaration from 2018-2020 San Antonio Poet Laureate Dr. Octavio Quintanilla.
The event will also feature a screening of "The Price of a Dream," a documentary co-created by Dr. Kiku Huckle and Dr. Katsuo Nishikawa-Chávez, which provides insight into the Deferred Action for Childhood Arrivals (DACA) program. The duo interviewed five recipients of DACA who grew up in the United States but returned to their birth country for various reasons. Nishikawa-Chávez will be present for a Q&A following the screening.
"I think we must view our hosting of this event in a broad context, as an effort to support the significant work that the City of San Antonio is leading in support of the tens of thousands of immigrants who arrive in San Antonio each year, most of them being from our neighbor nations in the Americas," said Hoyle.
The Lewis Center's mission is to promote better relations and understanding among the people and nations of the Americas. As part of that effort, noted Hoyle, the Center is focusing on immigration as one of the thematic pillars of its work. This includes collaborating with numerous parties, including the City of San Antonio, who are also working to advance immigration work.
"The Welcoming Week events taking place in the city will help spread a broader understanding, among our San Antonio community, of a global phenomenon that is largely misunderstood," added Hoyle. "My hope is that everyone who attends this event will come out with a deeper and more inspired understanding of some aspect of immigration."