UIW Students Step Up to Help Special Olympics Athletes
September 30, 2022
Special Olympic College Club Taking Part In State-wide Competition to Benefit Special Olympics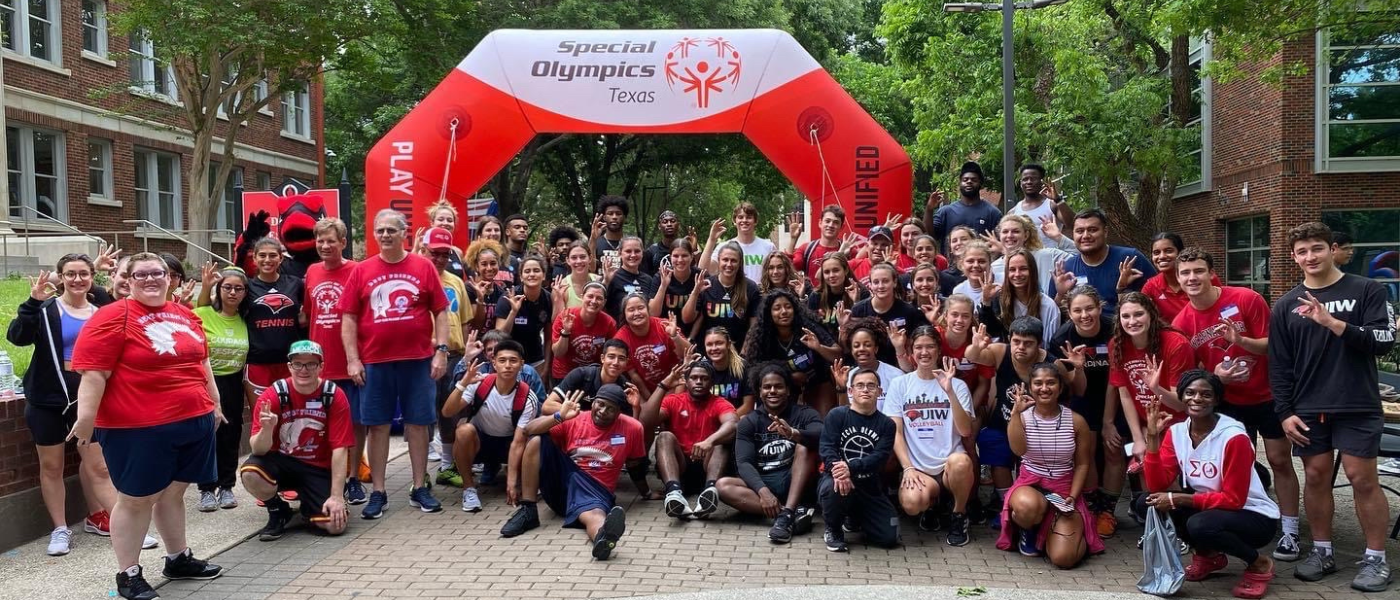 "Seeing students embrace diversity and inclusion strengthens my faith in a better tomorrow."
That's the way Dr. Stephanie Grote-Garcia, professor of Teacher Education, sees the formation of the University of the Incarnate Word Special Olympic College Club. Grote-Garcia and Dr. Emily Dow are faculty co-advisors of the club, which is made up of UIW students and Special Olympic athletes.
The club was started in 2021 when the group initiated the first Special Olympic Collegiate Challenge, a friendly competition between universities to see which school could raise the most money to sponsor Special Olympic athletes for the national event. Each team was given two weeks to raise the funds. In all, the collective teams were able to sponsor 21 athletes. The inaugural challenge last year was won by Schreiner University in Kerrville, but Grote-Garcia believes all the students got a special sense of winning just by competing.
"I have spoken to students on each of the competing 2021 teams and they have all mentioned how valuable the opportunity was," says Grote-Garcia. "They enjoyed giving back to the community by supporting our local athletes."
This year, the Special Olympic Collegiate Challenge is going state-wide with teams from the University of Texas-Permian Basin, Texas A&M University-Kingsville and Schreiner University joining local institutions Trinity University, Texas A&M University-San Antonio and UIW for the challenge. The event will run from October 1-15 and donations will be accepted online. Grote-Garcia sees this as a chance for the groups to support each other.
"Special Olympic athletes enjoy the support of the local community," says Grote-Garcia. "The athletes that are members of our club call us their "UIW family." And some athletes have found ways to give back to UIW. One of the athletes, who is also an officer of our club, volunteers with the UIW track team as his way to give back."
Grote-Garcia says, while the stated goal of the competition is to raise funds for Special Olympians, there is a lot more being accomplished. The effort brings awareness of inclusion to university students who are the next generation of professionals.
"Knowing that our future leaders find value in and respect for all, means that our future is in good hands," concluded Grote-Garcia.