UIW Launches First-Generation Speaker Series
September 9, 2022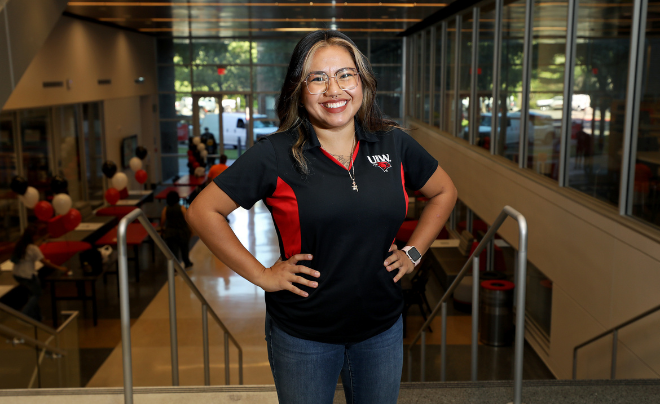 The UIW Office of Student Success: Academic Support Services hosted the inaugural session of UIW's new First-Generation Speaker Series, supported by the Texas Higher Education Coordinating Board (THECB) Accelerating Student Success Grant. Dr. Cynthia Mosqueda, faculty coordinator for the First Year Experience Program at El Camino College in Torrance, California, served as the featured speaker for the virtual event on Friday, Sept. 9.
"Attendees of the First-Generation Speaker Series can expect to be engaged in critical first-generation student success conversations as they learn how institutions can shift from deficit to asset-based approaches for first-generation student success," said Associate Provost of Academic Support Services/Dean of Student Success Monica Jimenez.
"I am a first-generation Latina college graduate," she added. "Not only am I the first [in my family] to receive my bachelor's degree, but I'm also the only family member amongst my hermanos, tías, tíos, primas and primos who has a doctorate degree. I see myself as a role model for students who come from first-generation families, especially Latinx students like myself, and I hope to inspire and empower them to work toward their own goals."
Like Jimenez, Mosqueda was the first in her family to graduate from college. She credits much of her success to the experiences and relationships in the California Community College system, and she is passionate about helping first-year students succeed through the transformational power of education. As an immigrant and first-generation Latina, the community college provided her with an outlet to excel and find her passion for student affairs and counseling.
During the event, Mosqueda shared stories about her experiences and work with first-generation college students. Attendees were also introduced to the new UIW First-Generation logo and learned about additional opportunities to support UIW's first-generation students.
"The goal is to have one national speaker each semester, and additional local speakers embedded in the First-Year Engagement program," commented Jimenez. "Each speaker will offer expert insights on first-generation student success topics such as institutional strategies for supporting first-generation students at scale, strategies for faculty and staff to improve classroom experiences for first-generation college students and shifting from deficit to asset-based approaches for first-generation student success."
The First-Generation Speaker Series is part of a larger UIW campaign called, "I am First-Generation," which was made possible through the grant awarded by the THECB. The campaign serves to bring awareness and promote a sense of belonging and provide support for first-generation students, faculty and staff. Additional items supported by the grant include a resource library at the Center for Teaching and Learning, allowing faculty and staff to learn more about evidenced-based practices that support first-generation students. UIW will also celebrate National First-Generation Day on Nov. 8.