UIW Holds Let's Taco-Bout Mental Health Fair
September 9, 2022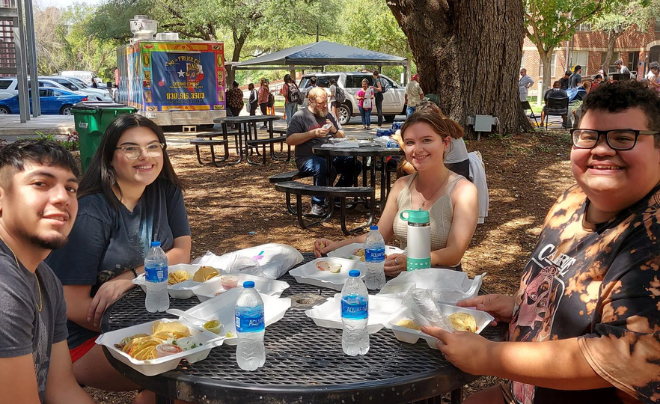 UIW Behavioral Health Services hosted the second annual Let's Taco-bout Mental Health fair on Thursday, Sept. 8. The event allowed more than 430 students, faculty and staff to take a moment to focus on their own mental health, have fun and enjoy tacos from the Mi Frijoles taco truck.
"I'm glad we have been able to have the Let's Taco-bout Mental Health fair on campus the last two years," said Julianna Sandoval, a senior biology major and Student Government Association president. "Mental health is important on our campus because mental health in college students impacts performance and success both in and outside of the classroom.
The event featured a resource marketplace where more than 30 community and internal partners engaged with attendees and answered questions about elements affecting mental health. Students, faculty and staff had the opportunity to talk to UIW departments such as Behavioral Health Services, the Music Therapy Association and Peer Advisors for Veterans Education, as well as San Antonio community partners such as the San Antonio PD Victims Advocacy Office and San Antonio Behavioral Healthcare Hospital. Students were provided with a punch card to carry from booth to booth – once they visited enough resource tables, they were able to take their card to the food truck for free, delicious tacos.
"An event like this creates a comfortable environment for university students to talk about mental health and put an end to the negative stigma with being vulnerable," added Miss San Antonio USA Abigail Velez, a senior Communication Arts major at UIW. "College students are at the forefront of mental health issues and it's necessary to address these concerns; Let's Taco-bout Mental Health entices students to gather and learn a lot about different resources on campus. Most of all, this event provides a platform for Cardinals to know that they are not alone."
"As a student at the University of the Incarnate Word, there are numerous resources on campus that can help support and prioritize you as a student," added Sandoval. "Prioritizing your mental health can help you have a greater college experience and academic outcomes."
If you have any questions about UIW Behavioral Health Services, please call the front desk at (210) 832-5656 or visit their website.