UIW Celebrates Latinx Heritage Month
September 16, 2022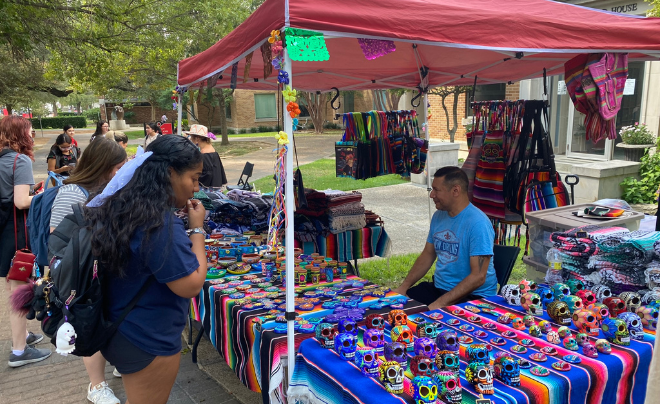 "[We want] to bring pride and awareness to the strengths of our campus" said Leslie Martinez, the leader of this year's UIW Latinx Heritage Month (LHM) committee, when asked about the University's month-long celebration of Hispanic heritage and culture.
UIW is a proud Hispanic-Serving Institution (HSI) and is hosting several events to celebrate LHM, which runs from Sept. 15 - Oct. 15 annually. At the corner of Broadway and Hildebrand, though, the celebration began early in honor of National HSIs Week (Sept. 12-18). So far, the UIW community has had the opportunity to attend events such as the LHM DiversiTEA, an Escobedo Lecture with Dr. Timoteo Matovina (professor of Theology at the University of Notre Dame) who spoke on "Espiritualidades de la Virgen de Guadalupe," and Diversity, Equity and Inclusion Circles, which provide safe forums for members of the UIW community to discuss ideas surrounding social justice.
Students and employees were also able to shop at the annual UIW Mercado, or "market," on campus, which featured outside vendors selling traditional Latin attire, goods and foods.
Martinez shared that the true intention of the month, according to the official website, is to "join in paying tribute to the generations of Hispanic Americans who have positively influenced and enriched our nation and society."
Martinez notes that this is especially important on college campuses because it allows society to take time to build intentional conversations about experiences and topics that matter to Latinx students.
"As a community, we all grow stronger and closer together by gaining that awareness of what life is like for people who have similar or different experiences," added Martinez. "It is the responsibility of institutions of higher education to pay attention to the populations on campus and to provide an environment that can improve student success, because building a sense of belonging on campus can help keep students on track towards graduation."
With events happening throughout the month, there are many opportunities for UIW and the surrounding community to get involved. While Martinez is excited about all the events, she is most looking forward to the visit by Dr. Cynthia E. Orozco, an award‐winning and best‐selling author and professor, on Oct. 14. Orozco, who will speak at 1:30 p.m. in the Mabee Library Auditorium and again at 7 p.m. in Bonilla Lecture Hall (BHS 129), will open each session with a presentation called, "Pioneer of Mexican American Civil Rights: Alonso S. Perales." Alonso Perales, whose life the presentation will discuss, was a Mexican American lawyer and civil rights activist. Her presentation will be followed by a panel that will consider how we can carry Mexican American civil rights into the future.
"I was born and raised in San Antonio, and I have a lot of pride in growing up on the West Side of San Antonio," shared Martinez. "Dr. Orozco's book educates us on the important life work of Alonso S. Perales. It stands to remind us that we have the ability to mobilize a community and to make lasting change. I am looking forward to having two audiences of students, faculty, staff, and community members attend and hopefully leave truly understanding how everyone can find their place in social justice movements."
According to Martinez, UIW's Latinx Heritage Month committee has helped diverse voices come together with a common goal and a shared passion, and the group is devoted to providing year-round programming to celebrate and highlight the many cultures that represent the Latinx community.
"It has been rewarding and heartwarming to see our students' lived experiences highlighted on campus," said Martinez. "I'm excited to see those trends continue as we grow with and learn from each other."
Visit our Latinx Heritage Month page for a full schedule of events