The Importance of Voting: UIW Holds National Voter Registration Event
September 23, 2022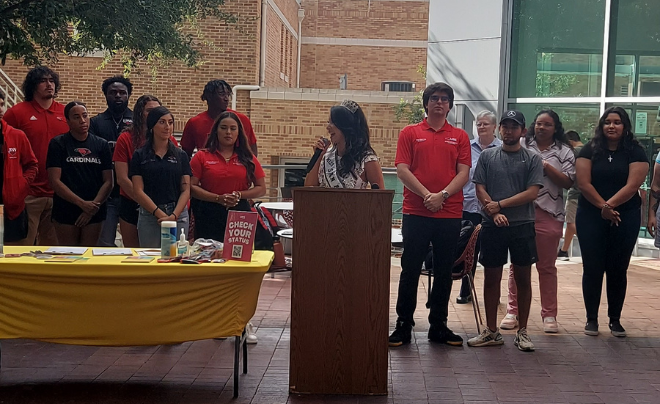 If you ask Abigail Velez, Miss San Antonio USA and a senior Communication Arts student at UIW, why exercising your right to vote is so important, she will passionately tell you about her childhood growing up in a marginalized community that did not have access to resources other zip codes might have had. As she grew older, she says she realized that this was caused by a lack of representation – the result, in part, of low voter turnout. Through years of Velez's encouragement, family, friends and community members in her town began showing up to the polls in larger numbers, ultimately impacting policy for the betterment of their community. Now, it is her mission as a public servant and in her role as Miss San Antonio USA to help those who need the most help learning to make their voices heard, particularly first-time voters.
"I know how big of a role voting played in making my town a place that we are proud of, and I believe it's even more important now to protect our voting rights," said Velez.
Velez founded a social awareness initiative called Value Your Vote to encourage first-time voters to understand the impact they can have with their vote. On Tuesday, Sept. 20, she partnered with UIW's Ettling Center for Civic Leadership and Sustainability (ECCL) to host a city declaration regarding voting. The UIW Student Government Association, social justice student organization As One We Will, and MOVE Texas, who helped UIW students register to vote in the upcoming election, attended in support.
"Voting is part of our democracy," said Julianna Sandoval, a senior biology major and Student Government Association president. "With voting, we have a voice to choose who we believe the best candidate is, and that's how we can help create change."
"It's important for people to vote so they can cast their hands on society and be the change that they haven't seen," added Gerald Bowie, founder and president of As One We Will. "Through voting, change can happen not only for yourself, but for everybody else."
Councilwoman Teri Castillo represented the City of San Antonio, sharing a proclamation from Mayor Ron Nirenberg in observance of National Voter Registration Day. In part, it said:
Now, therefore, I, Ron Nirenberg, Mayor of the City of San Antonio, in recognition thereof, do hereby proclaim September 20, 2022, to be National Voter Registration Day in San Antonio, Texas.
Mrs. Lisa Evans attended the event, offering her support of students getting involved in the voting process.
"One of the best things that you can do is have a plan," shared Evans about preparing to vote during remarks shared with students and attendees. "Go with your friends, come up with some kind of reward for yourself … let's go vote and make our voices heard. You have to make it a lifelong commitment, and the best way to do that is to start now."
In addition to supporting the initiative Tuesday, the ECCL plans to provide transportation during early voting on Oct. 25-26, and again on Nov. 8, Election Day. Dr. Ricardo Gonzalez, director of the ECCL, wants students to understand that their voice and their vote matters.
"I think it's very important for people to vote, especially today," shared Gonzalez. "Many times, we forget how one person's vote can make a big difference. It's important that they understand what the policies are, what the issues are, and the things that impact them now and in the future. Their vote can make a difference, so it is important to be involved and engaged."
"One thing I really wanted to do with Value Your Vote is pioneer the activism for young people like me to vote, and to know the importance of voting," added Velez. "Having different organizations and athletics on campus at the National Voter Registration event meant a lot to me, so we can all share the impact we can make by going to the polls in November."