September 16, 2022
UIW Education students make an impact on local elementary students through cultural representation in literature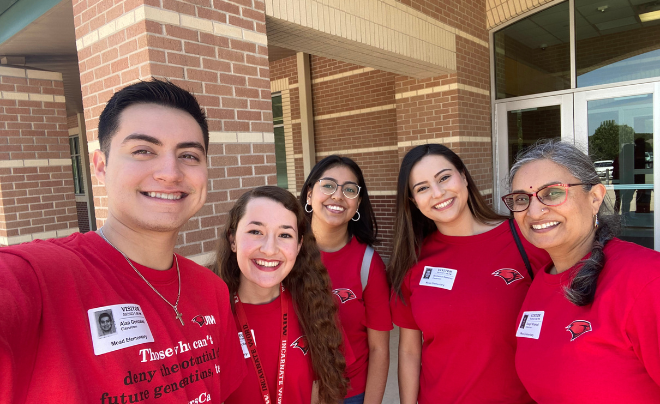 In the Spring 2022 semester, Dr. Deepti Kharod, assistant professor of Education in the Dreeben School of Education (DSE), along with students from UIW's chapter of Kappa Delta Pi (KDP), an international education honor society, participated in a unique book drive focused on cultural representation for students at Northside ISD's Dr. Martha Mead Elementary School. Because of this initiative, the UIW Alpha Kappa Omega (AKO) chapter, was recently awarded Kappa Delta Pi's 2022 Chapter Programming Award for Community Service.
"This service activity was a rich experience for all those involved," said Kharod. "We faculty enjoyed working together to support our students' efforts. Many of us reached out to our own networks, too. The children and school staff were so happy to receive the love and books."
UIW's initiative began in February 2022 when Dr. Ann David, associate professor of Education, shared the need for culturally responsive books for new students at Mead Elementary at a faculty meeting, and Kharod shared the need with KDP AKO officers. Several of UIW's Teacher Education program students were performing their clinical teaching at Mead and saw the same need she did.
"I thought it would be a wonderful service-learning project for our KDP students, so I brought the idea to our Diversity Advocate, Laura Diaz," said Kharod. "She ran with it, with the help of other members and officers."
Most of the elementary school students had recently arrived from Afghanistan and were lacking in children's literature about their culture. Over the next three months, the chapter began collecting book donations from students and eventually expanded their reach to include faculty as well. They added a monetary donation option and used those funds to purchase additional books. Once the donation period was finalized, the chapter reviewed the books to ensure those that went to Mead Elementary were culturally appropriate. Any additional books were set aside for donation to a local library. In all, approximately 100 books and $400 were raised for the students at Mead Elementary.
"The KDP students learned how to evaluate books for cultural responsiveness, in addition to donating to this cause," shared Kharod. She also noted that the process allowed UIW's education students to learn other valuable skills such as organizing logistics for an effort of this scale, publicizing the project and more.
DSE was not the only program involved in the project. Once the Dreeben students finalized the project, they worked with the UIW Office of Admissions, who provided UIW bags to put the books in for distribution. The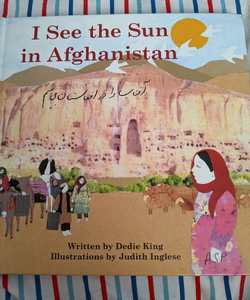 service project also caught the attention of helpers beyond the University.
"We received a pleasant surprise when a literacy professor from Dallas, who had heard about our book drive through a UIW faculty member, sent a book written in English and Pashto," students shared in the KDP AKO Chapter Programming Award application. The children's reaction to the book called, I See the Sun in Afghanistan, demonstrated the importance of cultural representation in literature for young children.
"One fourth grader read the title, first struggling with the English," remembered Kharod. "Then his face lit up as he saw the familiar script and read it fluently in Pushto and showed it to his friends."
This special moment occurred on May 25, when members of KDP AKO, including President Brehanna Ramirez, Vice President Emily Macias, Fundraising Chair Laura Diaz, Historian Alan Gonzalez, and Chapter Counselor Dr. Deepti Kharod, personally delivered the books to Mead Elementary. The group visited with five classes, from kindergarten through fifth grade. The officers also talked to the students about the importance of books that represent the students' cultures and the long-term positive impact of a love for reading and learning.
"As future teachers, KDP AKO officers and members now know how to choose books that are accurate representations of students from diverse cultures, which allows us to better reach all of our students in the future," Macias reflected. "Delivering the books in person also helped us connect to students from diverse backgrounds."
"The kids were so happy – it was exciting to see their smiles. At the beginning, it was hard to see how it would come together, but we've learned a lot and I'm proud of our KDP members," said Diaz.