Social Justice, Ethics, and Aesthetics: A Q&A with Dr. Javier Clavere, Dean of the College of Humanities, Arts and Social Sciences
September 23, 2022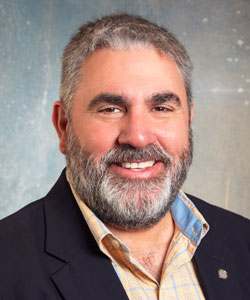 UIW recently welcomed Dr. Javier Clavere as the new dean of the College of Humanities, Arts and Social Sciences (CHASS). Dr. Clavere was born in Rosario, Argentina, and was invited to the United States on a full scholarship to attend Brigham Young University. His graduate studies followed at the College-Conservatory of Music of the University of Cincinnati. Most recently, he served as chairman of the Department of Music at Berea College in Kentucky.
Get to know more about Dr. Clavere and what the future of CHASS looks like under his leadership below.
Q: You've lived in various and diverse cities throughout your life. How has living in these diverse cities, from the Argentine Republic, to Utah, to the Midwest, to the American South, and now to Texas, affected your world view?
A: Thank you for the opportunity to reflect on this question. When I think of travelers and the immigrant experience, I am reminded of Sister Madeleine Chollet, Sister Pierre Cinquin, and Sister Agnes Buisson who came to San Antonio in 1868 without hesitation to help those in need. These three extraordinary young women experienced what we voyagers to other lands experience—an encounter with the unknown and others, which offers the journeyer a wider world view, an expansion and reframing of what is known. Journeyers also experience exposure to a diversity of perspectives that benefit both those who come into the new place and those who welcomed them.
In philosophical terms, travel is an extension of the journey of life. As George Santayana proposed: "What is life but a form of motion and a journey through a foreign world?" It is the journey and not the destination that is the focal point. The traveler, by nature, enters a diverse awareness and deepened worldview, two elements that have created mindfulness and cultivated empathy to view problems with creative solutions within multiple historical and cultural points of confluence.
Coming to the amazing city of San Antonio, where the story of Texas is lived out daily – an almost mythic tale of indigenous, Spanish, Mexican, and American becoming – my family has been welcomed in such a way that we experienced an immediate integration, resulting in an eagerness to make San Antonio our lasting home. It is now my turn to contribute my talents, resources, and perspectives to the service of the community and to empower my colleagues to design creative solutions to the challenges of today.
Q: After all of your experiences at various institutions of learning, what drew you to UIW?
A: If I may be honest, God drew me here. My prayer has been seeking the space and place where I can engage my Servant Leadership training and commitment to higher education within the context of the Catholic Intellectual Tradition. For 18 years, I worked as a director of worship and professional liturgist for the Catholic Church. I was blessed to enter the world of academia at a noble, mission-driven institution, Berea College, in Berea, Kentucky, where I held the Mary McGaw Endowed Chair. This role, to which I devoted twelve years, gave me the opportunity to serve many students who have been historically disenfranchised and aligned with my continued commitment to serve others. As stated in 1. Corinthians 7:17, "Everyone should live as the Lord has assigned, just as God called each one."
In addition, the story of the Sisters in conjunction with the ethos and commitment of the institutional Mission of the University made God's call clear: "The University of the Incarnate Word is the place." This decision demanded a significant uprooting for our family, just as the Sisters once encountered, embracing the unknown, taking a leap of faith, and trusting God that we were going to be exactly where we needed to be.
Q: You have a diverse and extensive background in theology, music, semiotics, and systems organization, shown in the degrees you have earned and your professional pursuits. How do these academic and professional experiences inform your leadership style?
A: I am blessed to be a polymath, where I am not bound by one discipline exclusively, which allows me to navigate many disciplines providing a larger context and interdisciplinary connections. In the College of Humanities, Arts, and Social Sciences, I strive to synergize, synthesize, and harmonize the different languages that speak to social justice (social sciences), that speak to ethics (humanities), and that speak to aesthetics (the arts). It is comparable to having many languages spoken in one place and being able to translate and facilitate conversations between them. With my interdisciplinary approach, I strive to make connections between social justice, ethics, and aesthetics to holistically uphold and honor the dignity of others while helping them in their educational and life pursuits. This interdisciplinarity ability is a fundamental skill in leading CHASS.
My main area of research, the methodological lens through which I see the world, is Semiotics (the study of signs, symbols, and the process of meaning creation), and I currently serve as the executive director of the Semiotic Society of America, leading the philosophical organization. The study of semiotics provided me with the fundamental tools to enter an interdisciplinary dialogue with an understanding of the differences and, more importantly, the points of intersectionality allowing me to think effectively in interdisciplinary terms.
Q: In reviewing your biography, your dedication to Diversity, Equity and Inclusion is clear. How do you plan to continue this work in your new role as Dean of UIW CHASS?
A: I believe the idea of Diversity, Equity and Inclusion is framed by the concept of Belonging. It is with this concept in mind that I intend to place my efforts mirroring the themes of Catholic Social Teachings. Following Toni Morrison's words, "When you get these jobs that you have been so brilliantly trained for, just remember that your real job is that if you are free, you need to free somebody else. If you have some power, then your job is to empower somebody else." Within this context, I pledge to promote the dignity of the human person, recognizing God in every person I meet. I pledge to promote community and participation while creating a sense of belonging for others. I pledge to help and support the poor and vulnerable, giving voice to those without access and opportunity. I pledge to promote recognition of the dignity and value of work well done and to recognize others in a spirit of solidarity as one human family. Finally, I pledge to promote the stewardship of creation and protect the planet where we live our faith in relationship with all of God's creation.
Q: How does the current generation of students differ from those in the past? How are they similar? In reflecting on how student learning has evolved or the student experience has changed, how does this affect your leadership strategy as dean?
A: Students today are facing unprecedented challenges and an accelerated rate of change. Thankfully, our students are resourceful and innovative. They are the bright light of hope that will allow for creative solutions to the profound problems of our day. They are similar to us (youth of the past), in their commitment to a better world, holding the promise of our future. They are the main agents of change and progress and the hope for our planet. They will control economic development, and are charged with doing things better than before. Here lies the fundamental need to emphasize the liberal arts as the model where this generation of students will continue to speak to social justice with ethics, speak to ethics with aesthetics, and speak to aesthetics with social justice, continuing the call to uphold Catholic Social Teaching.
My leadership strategy, as stated in my leadership and diversity statement, is to, in all activities of service, inspire, empower, and support others in their pursuit of happiness, goodness, and truth. I am honored by the tremendous responsibility placed in my role to create avenues of self-fulfillment, facilitating awareness of possibilities, so our students may unfold and develop their wisdom while gaining the skills that will assist in creating a better future.
Q: How do you hope to see UIW CHASS evolve during your tenure as its dean?
A: I see UIW CHASS evolving to place itself as the educational, ethical, and aesthetic leader of the Core education of the University, providing the wholeness of the educational enterprise among all disciplines. It is through this wholeness, acquired through the studies in CHASS, that individuals will be able to speak to Social Justice, Ethics, and Aesthetics through the various outstanding schools in the University as whole individuals, reflecting the presence of God in everyone they meet.
Q: You are an accomplished pianist. Will you continue to play and perform here in San Antonio?
A: Absolutely, once life settles a bit after our move! However, it will not be at the same rate as I previously enjoyed. That is part of a calling—accepting the new ways in which God is calling me to serve. Because music has played a significant role in my life, it will not disappear. So, look out for, "Jamming with the Dean!"