September 28, 2022
UIW's MSAT Program Helps Students Achieve their Goals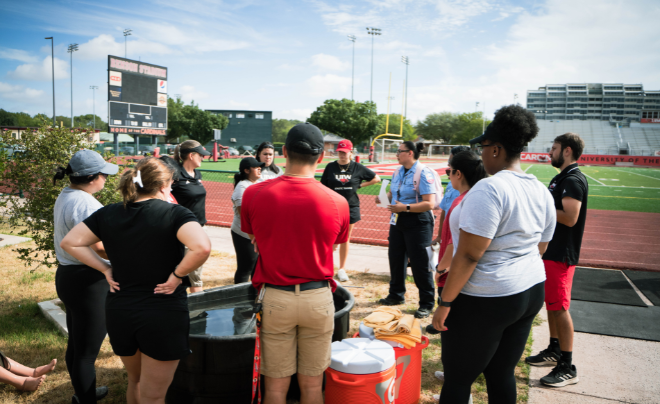 What sets the UIW Master of Athletic Training (MSAT) program apart? According to Dr. Reid Fisher, associate professor and program director in Athletic Training, the answer, is "service." Service to the students. Fisher says he finds out where the student is in their individual journey and helps them take the next leap forward.
The MSAT program is small, with each of the current cohorts having eight students. And while some students wish to pursue the "traditional" athletic training career of working with a high school or college team, that does not apply to every student, shared Fisher. Some students are interested in research, some are interested in the military and some are interested in international athletic training. UIW's program helps each student find their passion and work to achieve it.
"We're one of three programs in the nation with direct ties to the United States Department of Defense and we helped pioneer the embedded athletic training program here at Lackland," said Fisher. "We're also developing a relationship in Madrid to support a student going overseas for a semester."
The program is an entry-level professional degree program that lasts two years, beginning in the summer semester. Students meet with a clinical coordinator who helps connect them with opportunities that best suit their interests. If there is not a current position that aligns with those goals, Fisher said, they do their best to develop those experiences.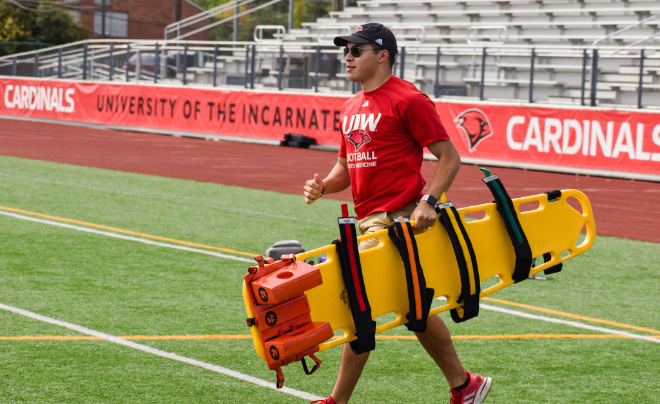 As graduate students, each semester includes approximately 300 hours of assigned clinical experiences. Students who work with the military may have to be at work at 5 a.m., while those who work at a high school or college may not start until 2 p.m. To allow for flexibility, coursework typically starts late in the morning and ends early in the afternoon.
"A balance of coursework and clinical exposure provides a friendly means of retaining and applying professional information," said Fisher. "Many still find time to have jobs around these hours, but their focus is clearly on learning to improve their own patient care."
The final semester of coursework is online, allowing students to fully invest themselves in an immersive position. Many of the students elect to stay home and connect with a local school, which has led to direct employment following graduation.
Most importantly, Fisher wants to help students in the Master of Athletic Training program succeed in the way that works best for them.
"I want to take my 20+ years of experience and relationship development and provide students with pathways to their goals," concluded Fisher. "We function to serve our students in guiding them to their best selves."