Diversity in the Medical Field
September 29, 2022
UIWSOM learners research diversity of general surgery residency applicants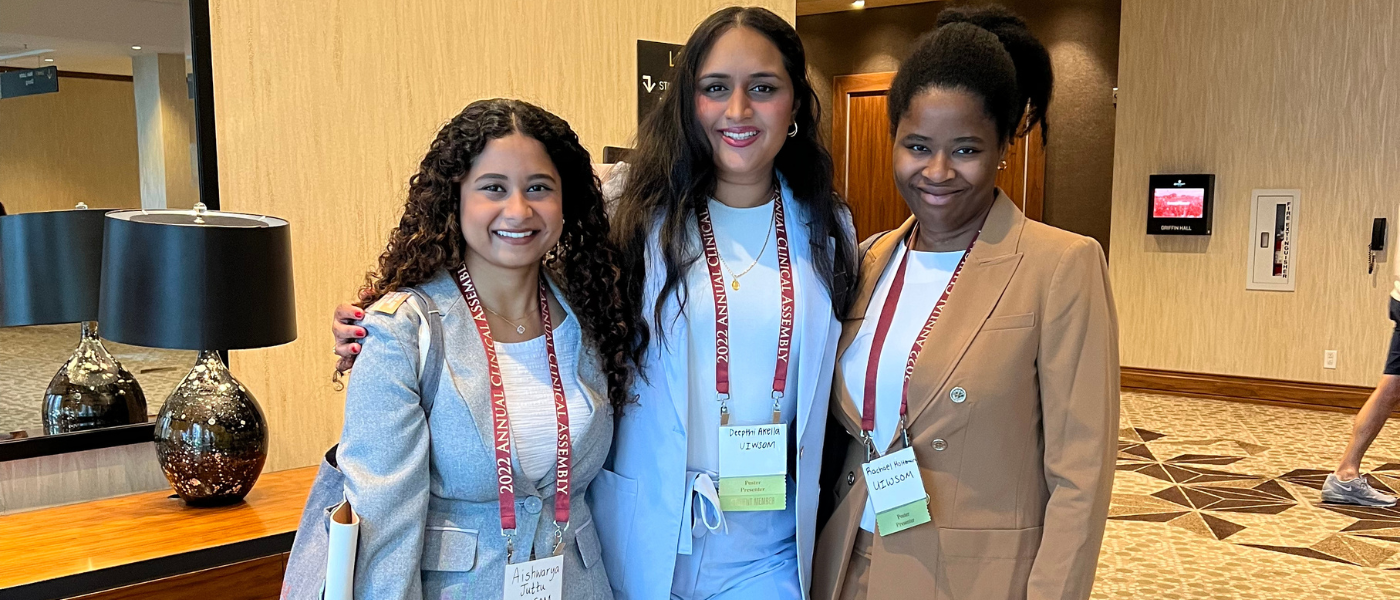 What factors in general surgery residencies encourage women and minorities to apply to these programs? This is the question UIW School of Osteopathic Medicine learners Rachael Holtzman (second year), Deepthi Akella (second year) and Jacqueline Danisi (fourth year) set out to research. They examined different factors that influence diverse applicants when applying to general surgery residency programs.
Holtzman and Akella then shared that research at the American College of Osteopathic Surgeons Annual Clinical Assembly in a presentation called, "Everyone Wants to be a General Surgeon: Changes in General Surgery Graduate Medical Education That Have Influenced an Increased Interest in the Specialty."
"Mentorship, equal gender and racial representation in positions of academic leadership, and adequate maternity leave and childcare resources for trainees all influenced diverse applicants to apply to general surgery residency programs," said Holtzman about their findings.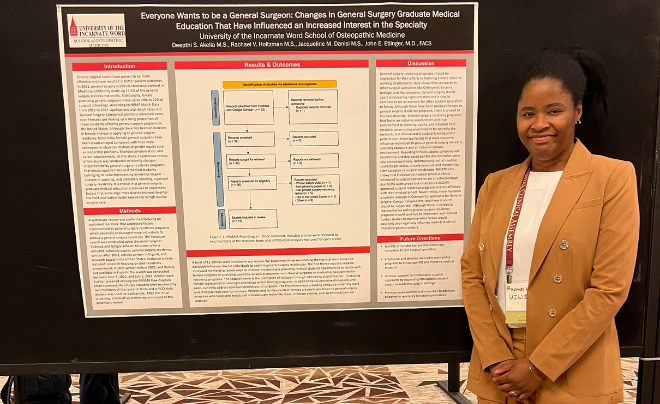 Holtzman also shared that, although more research should be done to emphasize and develop accessible mentorship programs, general surgery residency programs are already helping set the standard for a more inclusive working environment. This paves the way for other surgical specialties to follow.
Through this research, Holtzman realized she had a passion for diversity within the medical field. This, she says, will help her as she works towards her goal of becoming a general surgeon.
"It's important that medical teams are not only representative of the patient population they treat, but it's also necessary that medical students see other physicians who look like them so they know that they too can go into the specialty," explained Holtzman.
Akella grew up in a rural Iowa farm town and saw many people who struggled with a lack of access to healthcare. She is thankful to be part of a research team working to discover how those challenges can be alleviated.
"I knew I wanted to become a physician who bolstered the health of underserved populations that go
unseen," said Akella, who also hopes to begin a career as a surgeon. "Increasing diverse medical teams that provide for underserved and underrepresented populations contributes to better patient outcomes and a greater capacity for patient advocacy."
Holtzman and Akella feel that they grew through the research process and are now better prepared for their futures as physicians serving diverse communities, but they hope those who saw their presentation learned something, too.
"I hope people learned the importance of diversity, equity and inclusion in all medical specialties, including general surgery," said Holtzman. "I hope it allowed individuals to see the importance DEI plays in underrepresented medical students' decisions to pursue certain specialties."
"Diverse surgical teams have proven to be significantly more effective and yield better patient outcomes and satisfaction," added Akella. "We hope our colleagues and friends took away how valuable a diverse healthcare team is, and how we can continue to advocate for and encourage minority medical students to pursue surgical specialties."