Assistant Professor in SMSE Receives Grant from National Science Foundation
September 9, 2022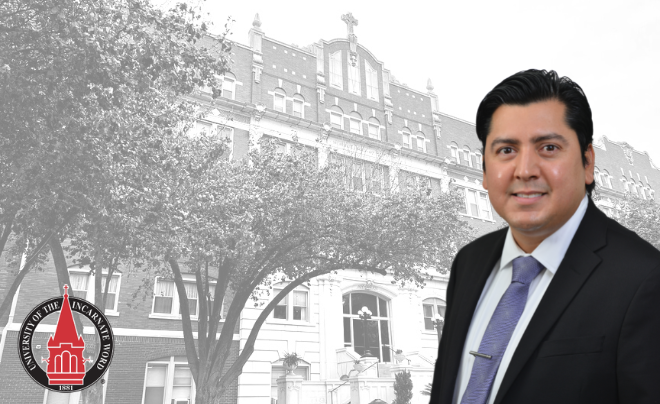 Dr. Gonzalo Parra, assistant professor of Cyber Security Systems in the School of Mathematics, Science and Engineering, received $95,000 as part of a grant from the National Science Foundation for the project Collaborative Research: CISE-MSI: Active and Passive Internet Measurements for Inferring IoT Maliciousness at Scale, which focuses on cybersecurity. Parra is collaborating with UTSA and the San Diego State University Foundation (SDSU) on the project. The total grant provided the trio of Hispanic-Serving Institutions with $600,000.
"I'm grateful for my partners at UTSA and SDSU who put their trust in me to spearhead this," said Parra. "I'm also thankful for those at UIW who have helped me, from Dean Dr. Carlos Garcia, to professors in the engineering department who have had these experiences before. They have all been a huge help through this process."
According to Parra, his research focuses on the "Internet of Things" (IoT) – physical items that can connect digitally to the internet – and how people have found ways to perform malicious activities with them, which "often leads to severe, disruptive, and debilitating security and privacy violations." Through his research, Parra is seeking ways to ensure safety of connected devices from such malicious activity.
Parra began his cybersecurity research with CPS Energy during his Ph.D. studies, but this grant allows him to scale the research to a new level and expand on his work. His goal is to detect rogue IoT devices by monitoring activity on a "Darknet." Darknets are reliable sources for investigating large-scale, Internet-wide activities. He and his students, all of whom are undergraduates, will collect, process and structure the data before analyzing it to identify anomalies across the devices. Once they have completed their research, they will pass the information to Ph.D. researchers at UTSA and SDSU for further examination.
"I have been working with undergraduate students on research activities for the last six months, and they are getting really good hands-on experience in intrusion detection systems, data collection, data analysis and that kind of thing," added Parra.
"To get them involved in one of these research projects is a win-win situation because they get to know a lot of novel systems that we cannot normally see in class, and they get to collaborate with graduate and Ph.D. students. At the same time, there are a lot of hours invested by our students, because sometimes the work is elaborate and tedious. We work on the initial part, and then share it with our partners. Collaboration is always a good thing."
The team plans to make cyberinfrastructure available to the public that will generate threat information and enable proactive IoT security remediation and more. Through their work, Parra and his research partners aim to serve the public by learning the tools needed to identify compromised IoT devices and provide necessary protections.