August 25, 2022
As classes began at UIW on Monday, San Antonio had its first hint of end-of-summer weather, with much-needed rain and slightly lower temperatures. But the change in weather did not dampen the spirits of students, who were excited to be back on campus and enjoyed several Welcome Week events.
Students had the opportunity to take a "first day of college" 360-degree picture and grab a Crumbl cookie to kick off the week on Monday. The next day, Campus Engagement and the Office of Student Advocacy and Accountability teamed up to share tips on how students can be successful during the school year. The event was complete with crowd-favorite snacks like Hot Cheetos with cheese, corn in a cup and paletas. In the evening, Greek Life and Club sports hosted the annual Backyard BBQ and Games event, while sharing ways students can be active.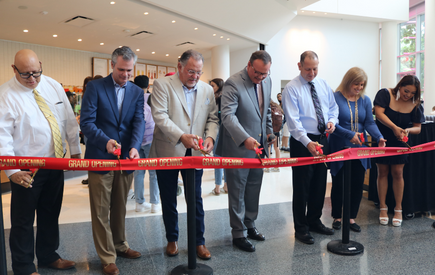 One special, and highly anticipated highlight of the week, was the official grand opening of Starbucks in the Student Engagement Center. A large crowd gathered to watch a ceremonial ribbon-cutting, after which they enjoyed free coffee samples and live music. Representatives from Joeris General Contractors, Sodexo and the Student Government Association were present and assisted with the ribbon cutting.
Wednesday morning, the Student Government Association held its annual Student Org Fair, giving students the opportunity to meet with student organizations and clubs to learn more about getting involved in campus life. The rest of the week featured events like Coffee and Donuts at the new Starbucks Lounge, Stuff-A-Critter and Karaoke at the Pub. The week will close with a Welcome Week Concert featuring the Spazmatics, allowing students to enjoy spending time with their new UIW community and friends.