UIW Professor Receives Lifetime Achievement Award
August 23, 2022
Dr. Michael Moon Hailed for Contribution to Emergency Medicine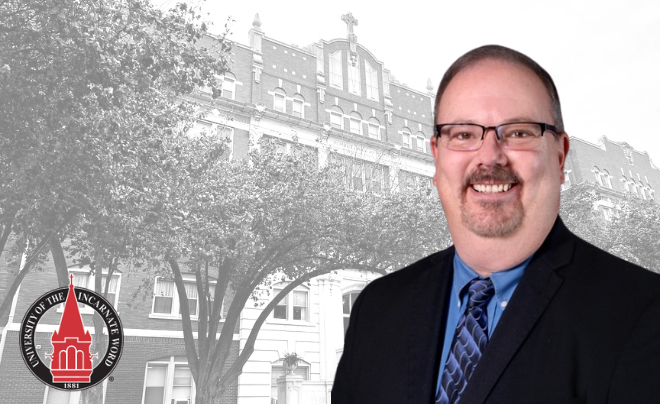 San Antonio – The University of the Incarnate Word (UIW) Ila Faye Miller School of Nursing and Health Professions is pleased to announce that Professor Michael D. Moon PhD, MSN, RN, CNS-CC, CEN, FAEN will be the recipient of the Emergency Nurses Association (ENA) Lifetime Achievement Award.
Dr. Moon, a professor, advanced practice registered nurse, and certified emergency nurse at the University of the Incarnate Word, will be awarded the ENA's Lifetime Achievement Award in Denver, Colorado at the ENA Annual Meeting on September 30 – October 3, 2022.
Those who receive the Lifetime Achievement Award are inducted into the ENA Hall of Fame, created in 1995. The Lifetime Achievement Award reflects a career of dedicated service, accomplishments and contributions to emergency nursing. The special significance of this award is the enduring nature of the achievements, and that the accomplishments and contributions have value to emergency nursing beyond the recipient's lifetime.
"This is truly a special honor to be recognized by your peers," says Moon. "There are so many wonderful people who are trying to make a difference in the lives of our patients every day. I am just grateful that I have had the opportunities and support to do what I am passionate about. I hope that I can continue to help mentor others in advancing the profession."
Moon has been an active member in the emergency nursing community and ENA since he began his nursing career in 1987. His collaborative nature has helped him to be involved in conducted emergency nursing research, getting published, shaping national policy, presenting on emergency nursing topics both nationally and internationally, and serving in various leadership roles within ENA at the local, state, and national levels. He was inducted in the Academy of Emergency Nursing in 2007. Dr. Moon has always been a staunch supporter of being involved in professional associations.