UIW partners with Hiring Our Heroes to Give Back to Military Community
August 23, 2022
UIW's Military and Veteran Center and Career Services partnered with Hiring Our Heroes to host a career summit Aug. 3-4 in the UIW McCombs Center Rosenberg Sky Room.
Hiring Our Heroes (HOH), a national nonprofit with the United States Chamber of Commerce Foundation, hosts events around the country with a mission of connecting members of the military community with meaningful careers. More than 680 members of the San Antonio military community participated in this event. St. Anthony Catholic High School and UIW's Student Veteran of America chapter provided student volunteer support.
"It's a very challenging transition, coming out of the military with such a structured life," said Jonathan Lovejoy, senior director of Military and Veterans Affairs. "It's challenging to decide what career field to go into, or what interests you, what companies are out there, etc. Hiring Our Heroes helps with that transition by providing training and opportunities to meet with potential employers at these events."
Although HOH career summits are typically on military bases, the nonprofit chose a different route to maximize the accessibility for members of the community in Military City, USA. With UIW's large concentration of military-connected students (24% of the student body is military-affiliated), the school at the corner of Broadway and Hildebrand was a logical location, said Crystal Byrant Kearns, director of Events and Engagement for Hiring Our Heroes.
"UIW gets it. They get that the military community is an important part of our country," said Kearns. "They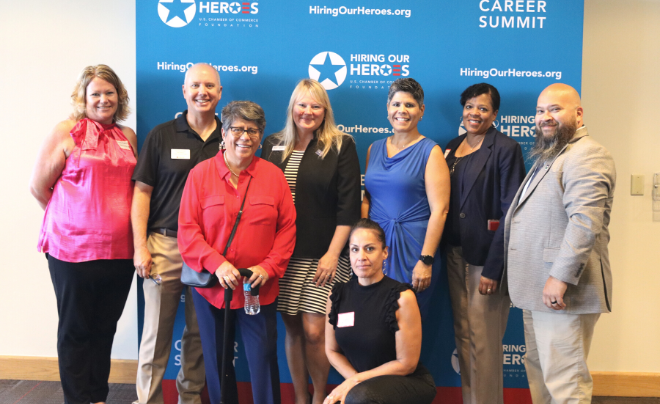 have been incredibly hospitable to us for this event; in fact, I would love to hold it here in future years."
Wednesday night included a networking reception with more than 200 participants. On Thursday morning, attendees had the opportunity to learn important skills related to job searches, such as how to create a resume and how to prepare for an interview. Thursday afternoon featured a career fair where participants had the opportunity to meet with potential employers.
Kearns shared that HOH has had over 3,200 job seekers attend their Career Summits thus far this year, with 1,400 job offers made at those events. Additionally, 2,200 follow-up interviews have been scheduled from the events.
"The employers that come to the career summits are ready to hire military talent, because they know they are getting top talent," said Kearns. "UIW has made an investment in the military because the school understands what they bring to the table, and how important they are to our nation."
This event is another amazing opportunity not only for UIW students, said Lovejoy, but for the San Antonio community. UIW has numerous opportunities to celebrate and honor military-affiliated members of the community, such as Military Appreciation Games and the UIW Veterans Day Parade.
Kearns reiterated that the support the military community receives from UIW and throughout San Antonio helped draw HOH to the University for an event she says was "a great success."
"San Antonio has an incredible population of military people right here in the community, but that is not the norm," noted Kearns. "To come to a community that's considered Military City, USA, it feels like home. It's fantastic. And to be with an organization like UIW, it also feels like home because again, they get it. It's all about supporting our military, because they are supporting our nation."