UIW Grad Making a Difference for those Escaping War-Torn Ukraine
August 15, 2022
By Michael Valdes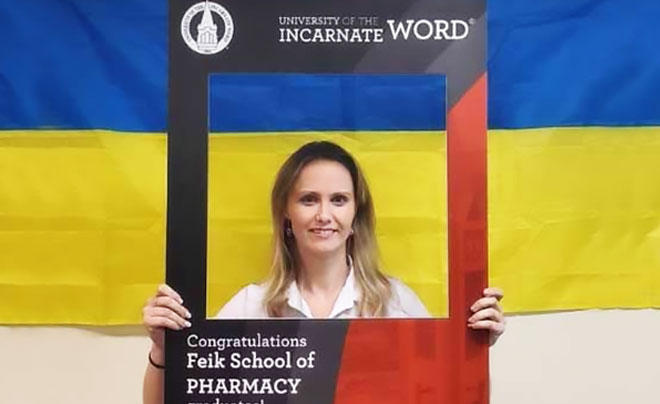 "This experience changed my life the moment I got off the plane. The mission was in Poland where I could medically assist displaced Ukrainian citizens running away from violence, destruction, and hostile environments caused by the war."
As her classmates enjoyed a day of celebration with family and friends, Iryna Aniushkevich missed her graduation day from the UIW Feik School of Pharmacy in May 2022. That's because, the day before graduation, Aniushkevich was already on a plane starting to fulfill the lessons she says she has learned at UIW. The 32-year-old Doctor of Pharmacy graduate was part of a mission program sponsored by a nonprofit called International Medical Relief. The group was sent to Poland where the vast majority of refugees from the Ukrainian war with Russia have sought relief.
"The shelter guests were coming from Ukraine's heavily affected areas with all the belongings they could carry," says Aniushkevich. "Their journey to Poland was difficult and unsafe, with many involved in long hiding in underground shelters and basements. The Ukrainians staying at the shelter were in a state of psychological distress and anxiety. Some left family members behind. Some with deceased family members or friends. All without a concrete plan for where to go and what to do."
For Aniushkevich, the trip to Poland was a bit of a homecoming. She immigrated to the United States more than ten years ago from her home country of Belarus and had not been back to the region in years. Still, she found that her upbringing would pay huge dividends for those in need.
"I was able to play multiple roles: the pharmacist, the translator and the therapist as it was naturally easy connecting to people with an alike mentality," says Aniushkevich. "Much medical help was needed, but often people were shy to come to the clinic even being symptomatic. Many patients required persuasive conversation or a walk alongside. I was inspired to collaborate with the medical team driven by the same humanitarian purpose."
The days at the shelter were long for Aniushkevich and her fellow volunteers. She says she worked from seven in the morning to ten at night for almost two weeks. She admits, the stories she heard from the refugees still bother her. Stories of murder, torture and families left desperate looking for asylum. But she says she never feared for her safety and, although the work took its toll, she still found it very rewarding.
"The special interactions with people will remain imprinted forever. Not just for me, but similarly for other American and international volunteers who came on the mission. Despite feeling desperate and helpless, Ukrainians remain true to their homeland and some refuse to immigrate to other countries, establish a new life, and are just waiting for the war to end." And while the end of the war in Ukraine is very much unclear, Aniushkevich is very clear about her future and her role in the future of her homeland. She hopes to return on another humanitarian trip to Poland.
"Given the continuous massive destruction and the ongoing hostilities in Ukraine, there is no question if I'm coming back, just a question of when," says Aniushkevich. "Strong commitment and support from the international community are crucial to sustaining this solidarity. I would encourage any American willing to do more for the Ukrainian people not to hesitate to step out of their comfort zone and participate. This trip changes you."