Moment of Reflection: Reflections of a Servant Leader
August 15, 2022
By: Dr. Barbara Aranda-Naranjo, MS '88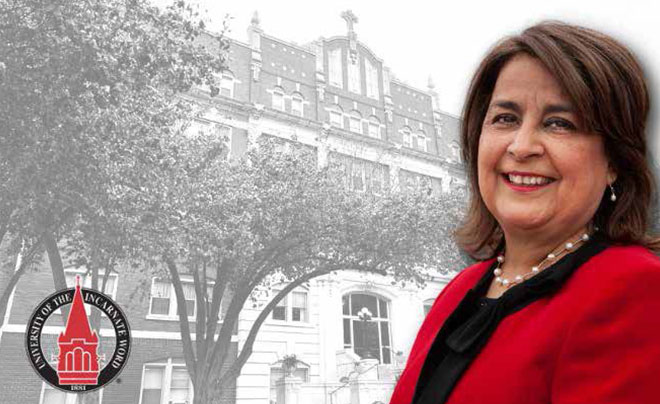 As a child, you never realize how important being safe and loved by your parents and family shapes your outlook on life and the choices you make in your vocation. I was blessed to have grown up with loving parents, seven brothers and one sister, and many extended family members including both my paternal grandmother, Petra Cordoba-Aranda, and my maternal grandmother, Barbarita Gonzalez-Ramos, both of whom were born in Mexico. As a second-generation Latina-American, I was reared in both the Mexican and American cultures. Because I was child number eight of nine, I spoke English first and Spanish was my second language. I also spoke Tex-Mex in our barrio in Houston, Texas. My parents and grandparents believed strongly in Catholic education and most of the family were fortunate to attend Catholic school through the 8th grade. I continued through high school at Incarnate Word Academy in downtown Houston.
I share the above short biography because, in the Latino culture, it is important when you start a "platica," a conversation, that you let your audience know "Quien Eres," who are you. In other words, we are all family, and it is part of being "amable" or affable to get to know the people you are having dinner with or engaging in a discussion. As I reflect on my vocation as a servant leader in my roles as a nurse, teacher, and administrator both at universities and in the public sector, the major theme in my work has been to reach out with love and kindness to the people and communities I have had the privilege to serve. I chose early to work with vulnerable, disenfranchised populations. I have learned through listening to their stories that we should always address them as resilient-vulnerable populations, which may seem to many as a contradiction in terms, but it is not. Even the most vulnerable person, student, or family has resilient characteristics that enable him or her to flourish with your help as a teacher, clergy, nurse, social worker, or other health care provider.
I want to pause here to share a poem a client shared with me early in my nursing career that I think beautifully describes the importance of showing kindness and love in the professional sense to the people we work with and those we serve through our selected vocations.
Poem: Abou bin Adhem
by James Henry Leigh Hunt
Abou bin Adhem Awoke one night from a
deep dream of peace,
And saw, within the moonlight of his room,
Making it rich, and like a lily in bloom,
An angel writing in a book of gold,
Exceeding peace had made Ben Adhem bold,
And to the presence in the room he said,
'What writest thou?' - The vision raised its head,
And with a look made of all sweet accord,
Answered 'The names of those who love the Lord.'
And is mine one?' said Abou. 'Nay, not so,'
Replied the angel. Abou spoke more low,
But cheerly still; and said 'I pray thee then,
Write me as one that loves his fellow men.'
The angel wrote and vanished. The next night,
It came again with a great wakening light,
And showed the names who love of God had blessed,
And lo! Ben Adhem's name led all the rest.
I have been blessed by God to have had teachers, mentors and supervisors in my life who took interest in my development as a person and a professional. As a first-generation college student, you can easily lose your footing and doubt if you belong in college. One of the key tools that grounded me in my trials and tribulations was knowing how to pray to God and seek counsel from sisters, priests and brothers who were angels in my path and some who became my spiritual counselors. My grandmother Petra had a hotline to God, and she taught us not only to pray but to have reverence in our prayer. We are all transformed by our failings, fears, and successes but without a strong spiritual framework to help you interpret your experiences you can easily be derailed and lose faith in yourself and others. Prayer does not change God, it changes and develops our relationship with God. At UIW, I have been asked on many occasions by students to share with them how to pray. I start our conversation with the following question: If you had a chance to have a private conversation every day with the CEO of the world would you make the time to share your thoughts and needs? Of course, students look at me puzzled and then chuckle a bit and say, "Who is the CEO of the world"? I give them one hint...it is the name of our University: The Incarnate Word!
Prayer with reflection is powerful and worth cultivating early in one's vocation. I am thankful for all the spiritual mentors in my life, especially the CCVI Sisters whose history and charism I carry in my heart forever. The song "Be not Afraid" that we sing at mass captures the love God has for us and when I hear this song it always brings tears to my eyes. In these challenging times and social unrest, this song gives me hope and reminds me that God is with us and goes before us and will give each of us the rest we need.
Be Not Afraid
St. Louis Jesuits
You shall cross the barren desert
But you shall not die of thirst
You shall wander far in safety
Though you do not know the way
You shall speak your words to foreign men
And they will understand
You shall see the face of God and live
Be not afraid
I go before you always
Come, follow me and I will give you rest
If you pass through raging waters in the sea
You shall not drown
If you walk amid the burning flames
You shall not be harmed
If you stand before the power of hell
And death is at your side
Know that I am with you through it all
Be not afraid
I go before you always
Come, follow me and I will give you rest
And blessed are your poor
For the kingdom shall be theirs
Blest are you that weep and mourn
For one day you shall laugh
And if wicked men insult and hate you
All because of me
Blessed, blessed are you
Be not afraid
I go before you always
Come, follow me and I will give you rest
Source: Musixmatch
Songwriters: S.j. / Bob Dufford
The final thought I would like to share came to me as a lesson from a young father who had AIDS and had just buried his wife who had just died of AIDS. He was left to raise his four children ages 2, 4, 6 and 8 with the two-year-old also infected with the AIDS virus. He was reported to CPS for child neglect because his children kept getting lice. At the CPS meeting where I was present after the team had given their report, they asked the father to share what he had to say about the lice issue. He quietly said, "before I share my thoughts, I hope you all will be open to hearing what I cannot say." The lead case worker asked him to repeat what he said for clarification. Once again, the husband said, in a quiet voice, "I hope you all can hear what I cannot say."
The young father began to speak in a low voice sharing the difficulty he was having managing the four children and then he stopped suddenly, and he sat stoically with tears running down his face….and ended his remarks by saying, "Can you hear what I cannot say." Emotional pain and losing our loved ones can be so great that they can paralyze our very voice and as we do our work as educators and healers we need to pause and try to listen to each other and to what a student, patient, parent or loved one is not able to say to us due to the emotional pain they are experiencing.
As the provost of the University of the Incarnate Word, it has been my distinct pleasure to work with many nationally recognized individuals who are leaders in their disciplines. I am proud of the collaborative teams we have developed across the campus and especially of those working collaboratively in the Provost's Office. Together, we have developed the Academic Master Plan, the planning document that guides us as we develop services and programs that will guide the University into the future. With the Academic Master Plan, we can effect positive change for our communities and can guide and develop students into servant leaders ready to take on the challenges of the next generation. Together, we can prepare our students to help those "suffering in the persons of a multitude of sick and infirm of every kind," the same as did Bishop Claude Dubuis when he issued the original call for the Sisters that founded this great University. Together, we can prepare our students to give their voice to those that "cannot say."
I want to recognize and thank my husband, Sonny, for his unwavering support of my efforts and his unconditional love. I truly could not have taken this journey without him and am so proud to have shared this journey through life with him by my side.
As servant leaders, we are honored to participate in the sacred transformation and formation of others that requires patience, time, silence, discernment, education, and training because every human being is a sacred member of the family of God.
Praise be the Incarnate Word...forever amen.