Catching up with Miss Fiesta
August 15, 2022
Q&A with Calista Burns, BA '22
Q: You are a product of the Brainpower Connection (IWHS 2018, SACS 2014); How has the Brainpower Connection positively impacted you in your education career, and did that influence your decision to attend UIW?
I have enjoyed being a part of the Brainpower Connection because I had the opportunity to take college courses while I was a senior at Incarnate Word High School. Being on the UIW campus allowed me to see the warm community the University has. While taking UIW courses in high school, my professors were always welcoming and helpful which is why I decided to attend UIW to earn my degree.
Q: You were selected as Miss Fiesta back in 2020, and are still currently holding the crown, is that correct? Can you share how COVID-19 impacted your reign and what you have been able to accomplish despite the pandemic?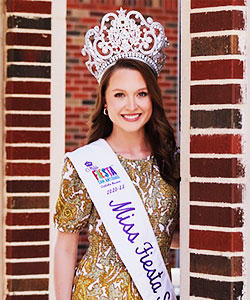 I was selected to be Miss Fiesta San Antonio 2020 and I graciously still hold the title of Miss Fiesta San Antonio 2020-2022. I will be the longest reigning Miss Fiesta in history, which is crazy to think, but I am honored that I can hold the title for three years and represent San Antonio and the Fiesta Commission. Even though GEMS was not able to host summer camps in 2020 and could not have in-person club meetings, we still connected with the students in GEMS and were able to work with new schools. Because we didn't have summer camps, I created the GEMS STEAM Activity Kit which was free for our students. I made 50 kits for 5th-8th grade girls that had been a part of GEMS and I personally delivered each kit to the students' homes. Each kit included all the supplies and instructions to do three STEAM experiments at home. As Miss Fiesta, I received support from the San Antonio Fiesta Commission and Valero. GEMS also created the Virtual Research Camp for our high school students where the students conducted college-level research over four weeks. The students did their research on topics such as robotic surgeries and using artificial intelligence in pharmacy. To stay connected to the students during the holidays, we created the GEMS Holiday STEAM Kits. This time we made 100 kits that we gave to students at four of the schools we work with and we were able to make a connection with a new school as well. During the spring of 2021 GEMS hosted Zoom meetings every Monday with students in the GEMS clubs and we did fun STEAM experiments and games with the students. We continued the STEAM kits for a virtual Spring Break Camp and created 100 more kits. Moving into summer, we knew we weren't going to be able to have in-person camps, so we created 200 STEAM Kits and partnered with Valero again to make this happen. Even though we could host anything in-person, we made every effort to stay connected with our students.
Q: Who is your greatest role model or greatest influence in your life and why?
My greatest role model and influence is my mom. She has inspired me to follow my dreams and has helped me make my dreams a reality, one of those dreams was being Miss Fiesta. I had wanted to be Miss Fiesta since I was a little girl and I saw Miss Fiesta on the floats in the parades. When my mom saw that the Fiesta Commission was accepting applications to be Miss Fiesta and that it was based on a community service platform, she quickly shared it with me and encouraged me to apply. She has always been there for me in times of need and has always been the one to cheer me up and make me laugh. She is incredibly hard-working because she completed her bachelor's degree while working full time which is so inspiring. We have always been each other's biggest cheerleaders.
Q: You recently completed your degree, can you share what degrees you are completing and what you plan to do after graduation?
I graduated this May with a Bachelor of Arts in Elementary Education with a double minor in Math and Reading. I have accepted a position to be a 5th grade Math and Science teacher in the Round Rock Independent School District and will start in August of this year. This is my dream job, and I am so grateful that I get to start my teaching career doing what I love.