UIW Group Tours San Antonio Missions
July 1, 2022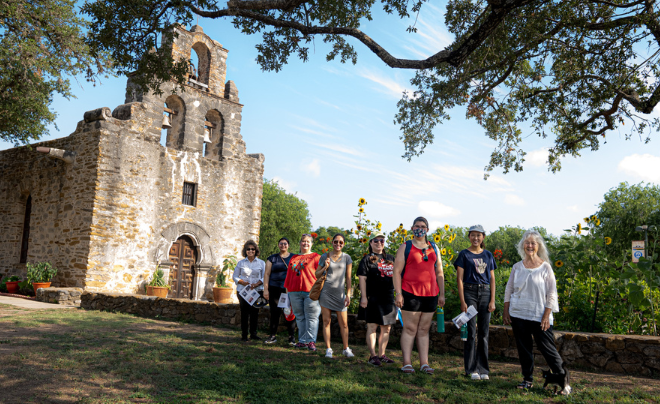 On Tuesday, June 21, the UIW Office of Mission and Ministry hosted a group of students and employees for a tour of four of San Antonio's historic Missions: Mission San Francisco de la Espada, Mission San Juan Capistrano, Mission San José y San Miguel de Aguayo and Mission Concepción. The goal in offering this tour was to educate members of the UIW community about the history and impact of the Missions, while also informing them of the connections that the Sisters of Charity of the Incarnate Word have with them.
"I deeply appreciate our tour guide and Sr. Martha [Ann Kirk] for giving us an insightful history about the Missions," said Gabriella Valdez, a rising senior who attended the tour. "Learning about the Missions is important so we can understand more of indigenous culture during the Franciscan period, and the Sisters' helpful impacts on places such as St. Peter orphanage (St. PJ's Children's Home.)
These Missions were a large part of the early history of San Antonio, which was itself founded as a large mission settlement bearing the original name Misión San Antonio de Valero. The impact of these Missions was broad and as history progressed, would grow to affect the Sisters of Charity of the Incarnate Word.
Over a century after the Missions were created, The Sisters of Charity of the Incarnate Word came to San Antonio in 1866. They established the Santa Rosa Infirmary to care for the sick, suffering from a cholera epidemic, and later opened an orphanage and schools to educate the orphaned children in their care. While the Sisters had their own ministries, they also taught in the schools within the Mission complex. The tour goes on to relay how in 1912, Mission Concepción became a temporary home for the children of St. John's Orphanage, a ministry of the Sisters of Charity, after it was destroyed in a fire on October 30, 1912. During this time, the Sisters raised funds and support throughout the San Antonio area to create a facility, which in 1929 opened its doors under the new name St. Peter and St. Joseph Children's Home, which still serves the community today.
"In reflecting on all that we saw and learned at the tour, it is incredible to think about what the City of San Antonio has become as a result of both the Spanish, who opened the Missions, and the CCVI Sisters," said Rozlyn Bermea, a graduate assistant for Mission and Ministry. "It is also incredible to think that we, living in San Antonio, and even in the land that was once considered 'New Spain', are carrying on so many of the traditions and ministries that the founding Spaniards and CCVI Sisters established."