megaGEMS Prepares for Local Drone Competition
July 29, 2022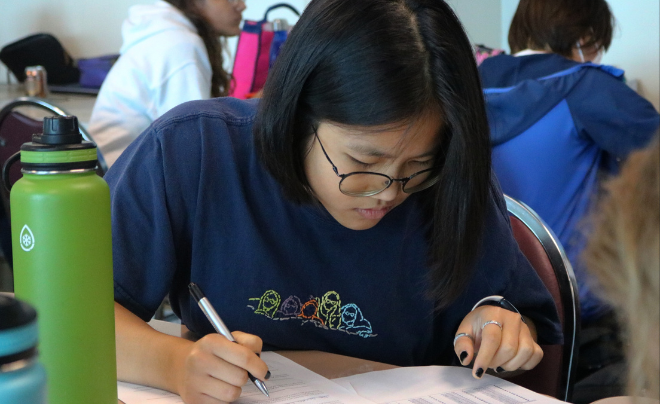 The UIW Autonomous Vehicle Systems (AVS) Lab-sponsored outreach program, Girls in Engineering Math and Science (GEMS), is preparing to participate in a drone competition as part of the Digital Avionics Systems Conference. The conference, scheduled for the fall, is sponsored by the Institute of Electrical and Electronics Engineers (IEEE) Aerospace and Electronics Systems Societies (AESS) and hosted by St. Mary's University.
"This incredible group of young women is inspirational not only with their hard work and dedication to their educational growth, but they are genuinely humble and kind individuals," said Stephanie Weiss-Lopez, AVS Labs project manager and GEMS project manager/coordinator. "Each student comes from a different background and high school, and yet they all come together to empower and lift one another. I am truly proud to watch them become the next generation to enter college and the workforce."
UIW's megaGEMS is an all-female team made up of Army Education Outreach Program (AEOP) high school apprentices and UNITE students (UNITE is a summer STEM program that under the AEOP umbrella) from different backgrounds brought together through their mutual interest in careers in STEM fields. The high-school-aged students are mentored by UIW students throughout their apprenticeship. This summer, the megaGEMS participants were tasked with researching and successfully popping balloons using the Tello EDU, a small drone produced by Da-Jiang Innovations (DJI). They'll need to accomplish the same feat for the upcoming drone competition.
Over the summer, the students created codes using Python and learned to fly the drone manually. They conducted research and continuously worked alongside the members of AVS Labs to successfully pass the Tello EDU through an obstacle course to pop balloons at various heights. They collaborated to develop various techniques that allow for faster, more efficient piloting and unique methods for flying the Tello EDU drone. Anneliese Coleman, a member of the team, even has her FAA Part 107 remote pilot's license, and teammate Carolina Mancilla is in training for the same license. It's this passion and drive from the megaGems participants that have inspired UIW's own students throughout their mentorship.
"What I have learned from working with the UNITE and AEOP apprentices is they can accomplish anything that is assigned to them without having background knowledge of the project," noted sophomore Carissa Lira, a Business Management major and assistant coach of the GEMS drone team. "They uplift each other and are always willing to give a helping hand. They are always willing to step outside of their comfort level with the support of their peers. They work very well independently but ask for guidance from peers and mentors when needed."
"Having the opportunity to work with UNITE and AEOP apprentices has opened my eyes to what young women in STEAM need to flourish in the future," added senior Chyna Lane, a Cyber Security Systems major and head coach of the GEMS drone team. "To be part of the lives of such intelligent high school girls doing undergraduate work is one of the most amazing things I've seen in my college career. They have such a tight bond with each other since it is an all-female team. I am very proud to be their coach and plan on mentoring them in any way I can to help them achieve their future goals."
UIW Coaches
Chyna Lane, Coach (Senior, University of the Incarnate Word)
Carissa Lira, Assistant Coach (Junior, University of the Incarnate Word)
Team
Abigail Mancilla (Sophomore, Judson Early College Academy)
Carolina Mancilla (Junior, Judson Early College Academy)
Mary Marquez (Sophomore, St. Anthony Catholic High School)
Anneliese Coleman (Senior, Keystone High School)
Tanya Lertpradist (Senior, BASIS San Antonio Shavano High school)