UIW to Participate in Interfaith Programs
June 16, 2022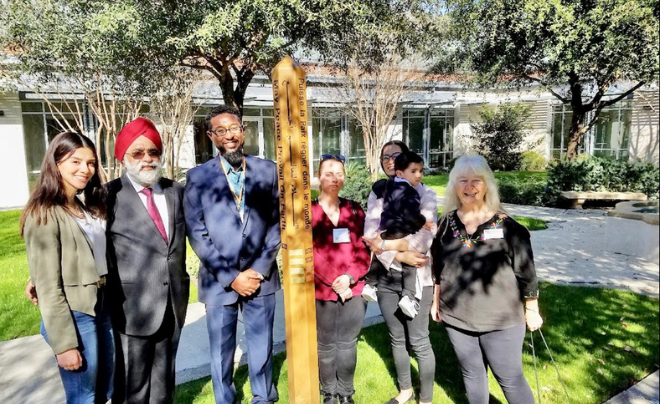 The University of the Incarnate Word has been invited to participate in the Institute on Teaching and Learning for Campus-wide Interfaith Excellence and the Institute on Interfaith Excellence (IIE) for the second year in a row by Interfaith America and the American Association of Colleges and Universities.
The campus team consists of Sr. Martha Ann Kirk, CCVI; Dr. Kevin Salfen, professor of Music and assistant dean in the College of Humanities, Arts and Social Sciences; Dr. Sandra Guzman Foster, associate professor of Education; Dr. Benjamin Miele, associate professor of English; Dr. Deepti Kharod assistant professor of Education; and Sheena Connell, assistant director of International Admissions and Recruiting. The cohort will join selected educators from around the country for the national gathering set for July 18-21.
"Through its participation in IIE, UIW continues to demonstrate its commitment to building bridges between people from different faith traditions," explained Salfen. "Our faculty members are already passionate about this work … the IIE workshop will strengthen our shared commitment and help us develop concrete ways of addressing the challenges we face as we shape a campus community defined by empathy and compassion."
During the institute, UIW will join with other teams for four days of education, discussion and planning in regard to interfaith understanding and cooperation. Part of the time, the UIW team will focus on the development of their proposed plan "Uniting in Sustainability: Care of Creation in major religious traditions and in Laudato Si." UIW has signed a pledge in accordance with the seven-year action plan for the care of creation as laid out by Pope Francis in Laudato Si. This project will further knowledge of and commitment to sustainability as described in that plan, drawing ideas from diverse faith groups.  
This summer, the UIW team invites members of the community to build relationships with local Buddhist, Hindu, Jewish, Muslim and Sikh communities, and to consider their ideas on creation care. Throughout the year, faculty and UIW students will be supported in developing educational gatherings and service projects with these various faith communities.
Interfaith America has featured UIW projects including "Digging, Growing, and Transforming" and "When COVID Kept Us Apart, Interfaith Ties Brought Healing," which built on the campus efforts towards interfaith literacy and service for all.  
UIW is one of 50 campuses across the United States working to prepare college and university leaders to transform their campuses into environments for interfaith cooperation. The institute provides practical guidance, mentoring and resources related to religious diversity and interfaith studies in the curriculum, religious identity, campus diversity priorities and more. 
Since the start of the COVID-19 pandemic, interfaith gatherings called @TheIntersection have taken place every Thursday morning from 8 - 8:30 a.m. The UIW Interfaith Excellence program will help University community members lead students towards more civic engagement. UIW will deepen its relationships with the Interfaith San Antonio Alliance, @TheIntersection, and the SA Compassionate Institute with ongoing education and collaboration. 
For more information on this program, contact Sr. Martha Ann Kirk, CCVI, at kirk@uiwtx.edu.