UIW to Celebrate Juneteenth
June 3, 2022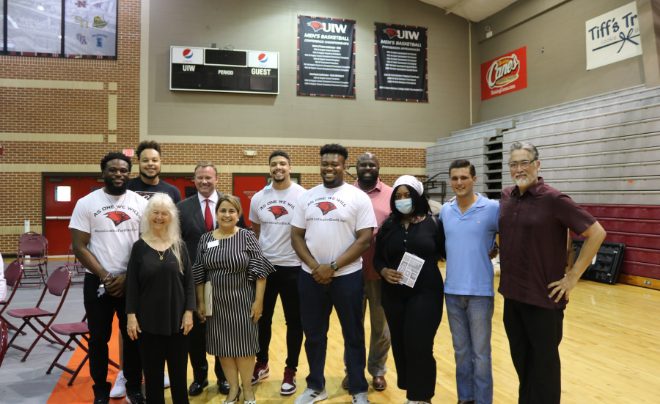 The University of the Incarnate Word will host its second annual Juneteenth Celebration at 5:30 p.m. on Saturday, June 18, at the McDermott Convocation Center. This event is free to the public.
Juneteenth commemorates the day when word of emancipation finally reached enslaved people in Texas in the chaotic aftermath of the Civil War. It was June 19, 1865, two years after the signing of the Emancipation Proclamation. More than 150 years later, in 2021, President Joe Biden signed into law the Juneteenth National Independence Day Act, marking Juneteenth as a federal holiday.
UIW is committed to observing this day annually, highlighting the resilient history of Black Americans as it celebrates diversity and works toward social justice and equity.
This year's event – which is co-hosted by student organization As One We Will, UIW Athletics, the Ettling Center for Civic Leadership and Sustainability, the Office of Mission and Ministry, and several other partners – will feature two components. Inside the McDermott Center, attendees can learn about Juneteenth through prayer, praise and readings of poetry, The Buffalo Soldiers of Texas, A Historical Remembrance and more. Following the indoor program, attendees can enjoy an information fair to learn about the various resources the community has to offer.
As One We Will works year-round to provide additional resources and events aimed at building bridges between people of diverse backgrounds.
"As One We Will's groups are open to all to have that safe space to have uncomfortable conversations about all topics," explained Gerald Bowie III, president of As One We Will. "We encourage all to attend these events."
While he enjoyed the inaugural Juneteenth event in 2021, Bowie looks forward to continuing to teach people who may not be as familiar with the purpose of the new federal holiday.
"This is a time for our UIW community and surrounding community to have the opportunity to learn about the history of Juneteenth," noted Bowie. "It is also a time when we can celebrate the freedom tied with this event, but also remember and learn from the dark past in which the holiday was born.
"Different people and organizations of all ethnic backgrounds will be in attendance to celebrate the same thing," he added of the event. "I hope people come and remember that we are a community."