Summer: A Time for Research
June 2, 2022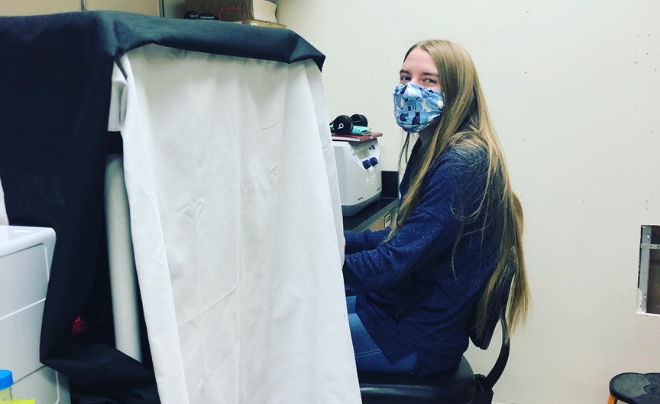 Summer is often a time for relaxation, rest and rejuvenation for college students. But for Emma Vequist, a rising junior Biology major at the University of the Incarnate Word, this summer is a time for research and discovery. For 11 weeks spanning June, July and August, Vequist is participating in the National Science Foundation (NSF) Research Experience for Undergraduates (REU) Biological Discovery in Woods Hole.
Throughout her time in Woods Hole, Massachusetts, Vequist will conduct research involving the regeneration of annelids and the processes and elements involved in this phenomenon.
"When thinking about this experience, I am most excited for the opportunity to actually take the time and immerse myself in my research," commented Vequist. "Trying to conduct research alongside my classes and coursework has been very difficult and it will be nice to only focus on my research and make more progress on starting my potential thesis."
Although she is the only UIW student participating in the program, she will work alongside Dr. Veronica Acosta, professor of Biology at the University of the Incarnate Word and codirector of the summer program at the Marine Biological Labs. This is Vequist's first time participating in this program, but she is no stranger to research, and has been working with Acosta to prepare for the summer.
"I have already conducted research with Dr. Acosta for about four semesters, learning research techniques, presenting at conferences, and analyzing and writing about collected data," noted Vequist. "I am also in the process of discussing potential research projects with Dr. Acosta that will be performed during the duration of this program."
"Emma is a rare bird," said Acosta. "She joined my lab as a freshman. I typically don't take on a freshman as a research assistant because they still are trying to figure out what area of biology they are really interested in. But Emma was very focused. She's also an Honors student. Her depth of knowledge of biology, as well as math and what that can bring to biology, was just phenomenal. I was really drawn to Emma's excitement to be in the lab."
Vequist is excited about the program. She looks forward to using the research projects to prepare for her future. But she is also excited to spend some time in a different part of the country.
"Through this program, I hope to learn more about different research techniques using the equipment available to me at Woods Hole, and I also hope to be able to start developing and collecting data for my potential thesis," added Vequist. "Additionally, traveling to a new state and experiencing the culture there is very exciting and I am looking forward to exploring the area."