Strength in Unity, Hope in Understanding: Feik Students and Faculty Live the Mission in Puerto Rico
June 16, 2022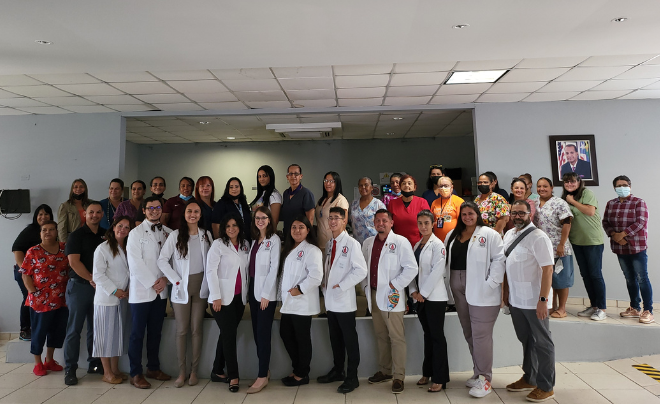 "As each one has received a gift, use it to serve one another as good stewards of God's varied grace." 1 Peter 2:10
Ten learners and three faculty members from the University of the Incarnate Word Feik School of Pharmacy lived out this command, using the gifts of medicine and compassion on a mission trip held from May 14 – 21. The group travelled to Las Piedras, Puerto Rico, where they served the Celia Mondriguez Elderly Center and residents of the local community. The trip was a collaborative effort with the National Hispanic Pharmacy Association and the UIW Ettling Center for Civic Leadership and Sustainability.
During the trip, the future pharmacists met with approximately 50 elderly participants at the facility and offered medical reconciliation and health awareness seminars. According to Luis Delgado, a 2023 PharmD candidate, seeing their smiles and happiness was the most memorable part of the trip.
"Although we were there to serve them, they were extremely grateful for our mission, and even offered us a place to stay if we ever went back," shared Delgado. "Their hearts were full of hospitality and care."
These types of trips are particularly important in healthcare, he says, because it helps remind the learners of why they began this journey. Medical school and the hardships of life can weigh them down but seeing the joy of their patients helped inspire Delgado to keep his focus on his love of people and medicine.
"This service mission taught us that happiness is intrinsic, and we must always fill our hearts with joy to be the best version of ourselves," he noted. "It's one thing to hear about hardship and adversity, but another to see it in action. Leaving Las Piedras knowing there is more to be done allows us to reflect and grow from the first experience to return with a much bigger impact!"
During the COVID-19 pandemic over the past two years, trips like this have been rare. Delgado and his classmates welcomed the opportunity to resume this important mission work.  He says it aligns "perfectly" with the UIW Mission of producing concerned and enlightened citizens within the global community.
"Our students' continued passion to serve underserved communities reflects what the first Sisters of Charity of the Incarnate Word were here to do in 1869. At UIW, we are blessed to have the means to exchange our hearts' wealth with the people we have the privilege of serving."
In addition to helping members of the Celia Mondriguez Elderly Center, the group also attended a meet and greet with the University of Puerto Rico School of Pharmacy, opening the door for future collaborations.
Meeting with these students and learning about their desire to serve the underserved was heartwarming, added Delgado, and he is excited about the possibility of future projects throughout Texas and Puerto Rico.
"Their eagerness to impact their community is what united us, far more than conversations about pharmacy school. Having students from all over the world come to heal Texas, while allowing us to do the same for their communities, would be an accomplishment that serves as an example for future generations. There is hope and strength in unity and understanding."