Schools of Osteopathic Medicine and Physical Therapy Hold Follow-up Amigos en Medicina Clinic
June 16, 2022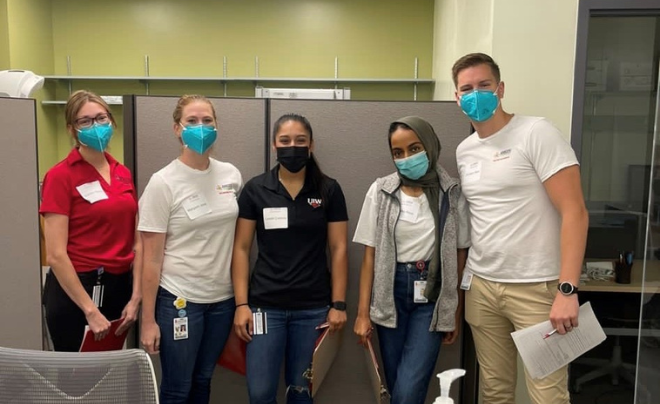 In January, the UIW School of Osteopathic Medicine (UIWSOM), the UIW School of Physical Therapy (SoPT), Ortho-SA and CHRISTUS Health partnered to form Amigos en Medicina (AEM). Together they are providing free hip and knee arthritis evaluations for Southside residents in San Antonio. The goal of the clinic is to care for patients that may otherwise not seek medical attention, educate patients by providing information that targets ailments identified, and build trust between the healthcare system and participants.
The second AEM clinic held in May partnered the UIWSOM, SoPT, Ortho-San Antonio, CHRISTUS Health and River City Produce to follow up with 12 patients, tracking their progress from the inaugural AEM clinic held in January.
"The Amigos en Medicina Clinic provides SoPT/SOM students with invaluable experience on the evaluation, differential diagnosis, prognosis and treatment of individuals with knee and hip osteoarthritis," noted Dr. Shaffer Scott, associate dean and professor of the SoPT. "It also allows students to work with various healthcare disciplines like orthopaedics, family medicine and physical therapy, in a collaborative environment that is focused on holistic health and maximizing patient function. Most importantly, students leave this experience with a greater appreciation for community service and how they can make an impact on the health of others."
"The Amigos en Medicina program granted me the opportunity to work in an interdisciplinary capacity with UIWSOM and see the positive influence that different professions can make on a patient's plan of care," added Zachary Kinninger, a second-year learner at SoPT. "It was an invaluable experience."
Evan Wright, a rising fourth-year learner at SOM, was instrumental in the administration and organization of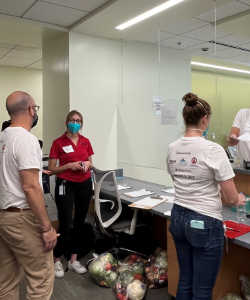 the clinic. As the point of contact for patients, he ensured attendees were informed of the process and knew what to expect, particularly for the first clinic early in the semester.
"My role, specifically, was to contact the patients so that I could know a little bit about them and get them familiar with us and what we were trying to do," said Wright. "I was going to get them scheduled to have their appointment with us. I was also scheduling them to get their X-rays from CHRISTUS … And then on the day of the first event, my role was more on the outside, making sure that the functions that needed to happen at the clinic were going to happen and tending to issues as they came up."
During the follow-up clinic, Wright was excited to be more hands-on with the patients. He and Christian Allen, a rising second-year SOM student, were grateful for the opportunity to interact directly with patients.
"I saw so many smiles, and then even one patient who couldn't believe the improvements he saw coming from the first visit to the second visit," commented Allen. "The overwhelming gratitude to the faculty, staff and students is something that I'll take with me for a long time."
Now, Wright and Allen are transitioning into a role of consolidating the information they have gathered to create a more streamlined process for future clinics. Through AEM, UIWSOM and SoPT students have learned more about the discrepancies in healthcare opportunities for underserved communities, as well as how to give back to the community that has welcomed them as they work towards becoming healthcare professionals.
"UIW students are servant leaders," said Dr. Emma Santa Maria, a UIW faculty member who was instrumental in securing the grant creating AEM. "These experiences bring social health disparities to the forefront and encourage students to find ways of minimizing or eliminating gaps within this community through partnerships and resources. Changing the world may be impossible in one day but changing the world around us is possible and our students do just that with each patient they see through these real-world experiences."