Nursing Faculty, Alumna Earn Local Awards
June 2, 2022
Two members of the UIW Ila Faye Miller School of Nursing and Health Professions faculty – Professor Julie Nadeau, EdD, MSN, RN, CNE, and former Assistant Professor Linda Hook, DrPH, MSN, RN, PHNA-BC – and UIW alumna Lizet Garza, RN, BSN, Northeast Independent School District (NEISD) were recently recognized for their dedication and service to the field of nursing.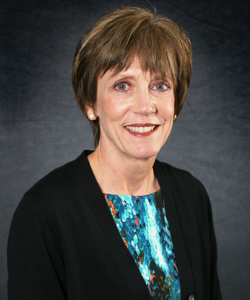 Nadeau was named a South Texas Nurse Imagemaker by the Texas Nursing Association, District 8, and Sigma Delta Alpha. Nadeau, who was selected to represent UIW by the School of Nursing, served in the Air Force Nurse Corps for nine years and has spent time as a clinical instructor at Hawaii Pacific University and George Mason University. At UIW, she teaches a variety of courses to the next generation of nurses, including Health Communication and Health Promotion and Disease Prevention.
Her nomination letter said, in part, "Dr. Julie Nadeau exemplifies professionalism, service, dedication to nursing, and promotion of excellence in nursing practice."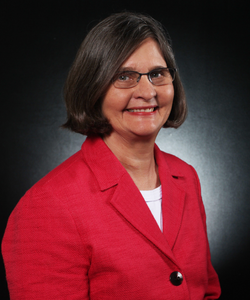 Hook was recognized in the San Antonio Express-News' (SAEN) Salute to Nurses campaign as a nurse educator. Hook spent 40 years in professional nursing practice in various specialties, including 20 years in community and public health nursing, prior to transitioning into a teaching role. Hook has been a leader in UIW's outreach efforts during the COVID-19 pandemic. She organized and led numerous clinics that resulted in thousands of Bexar County residents getting immunized for the virus.
"Hook's creativity, enthusiasm, and her tenacity are characteristics that have translated into multiple new initiatives in high-risk San Antonio neighborhoods; at the city's central homeless shelter called Haven for Hope; and within the School of Nursing," noted her nomination letter. "She knows what is possible; she has faith and skill in bringing people together to get work done; and she has boundless energy and warmth, which she showers on her students."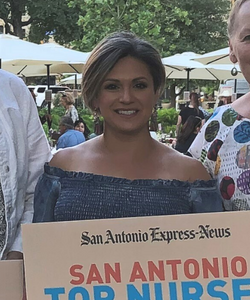 Garza earned the School Nurse Award in the SAEN's Salute to Nurses campaign for her work at NEISD. Garza is a 2004 alumna of the UIW Nursing program who values the education she received at UIW. She is currently the school nurse at Eisenhauer Middle School and works with a very diverse population. In her role, she helps students find the care resources that allow them to succeed in school, even connecting them with care at the Nursing Cardinal Wellness Center.
According to her nomination letter, "Lizet works endlessly to provide the best care possible to her students. She never stops, and goes out of her way to work sporting events to make sure student-athletes are well taken care of if an injury occurs."