Medio Creek and UIW Teaching Partnership
June 15, 2022
By Julianne Salame, BA '21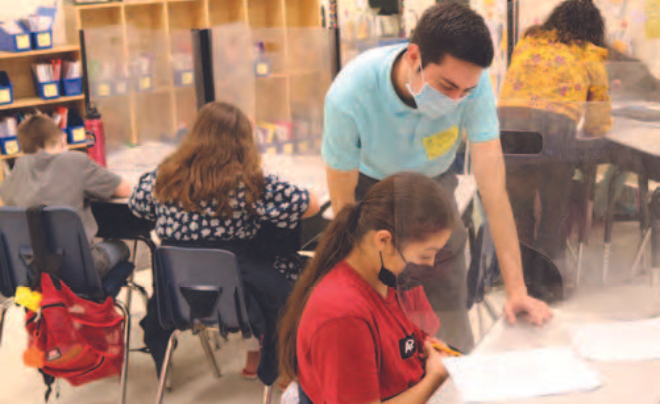 The teaching partnership between the University of the Incarnate Word and Medio Creek Elementary School has never been stronger. The students from UIW's teacher education program spend time shadowing established teachers at Medio Creek and learning from them just as their students do. Many of these teachers and administrators are UIW alumni.
Joana Carrion, who teaches third grade, is an UIW alumna that now works at Medio Creek. Carrion has UIW student teachers help in her classroom. She describes the teaching program as being a very important part of the learning process for both the students and teachers.
"I think it's quite wonderful that those of us from the program can share what we learned and what our teaching experience has taught us, as well as learn from the student teachers and keep current with new teaching trends. It's a great partnership where we can teach and learn from each other," said Carrion. This program creates an enormous wealth of teaching experience that benefits each school's students and enriches the student teachers as they prepare for their own future careers.
The program, through the Dreeben School of Education at UIW, provides support for upper division students between their UIW core curriculum education and their first three years as teachers, so that student teachers learn hands-on how to excel in classrooms.
"UIW always prepares their students well. I see kind, generous and willing individuals who can speak clearly, communicate with students and reach children with a servant's heart," added Amy Garza '04, Medio Creek principal. "I have hired many teachers from UIW and have enjoyed working with them."
Dr. David Campos, professor at UIW, shares his pride in knowing Garza, one of his students, embodied the core values of the UIW Mission in her work as a student, and that she continues to do so today as principal at Medio Creek.
"She demonstrates such kindness to the children, their families, and her faculty and staff. It is evident that she wants the best for her school community. I am also thrilled that our alumna Joana Carrion and other Medio Creek teachers have such a positive attitude toward the profession and are eager to share their knowledge and expertise with future teachers," notes Campos.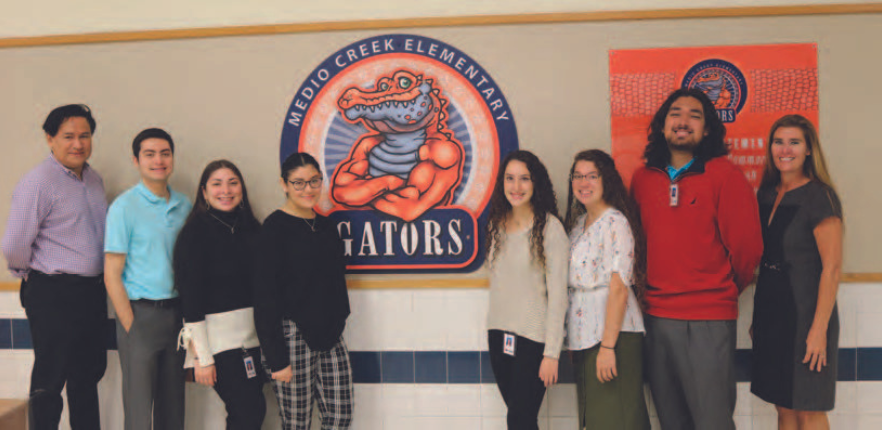 Alan Gonzalez is currently studying at UIW, working towards a bachelor's degree in Elementary Education with minors in Kinesiology, Reading and Special Education.
He described his time at Medio Creek as a great learning experience. Gonzalez looks to "Ms. Jasso," the teacher he works with at the elementary school, as a role model for his future career as a teacher. He described the experience of getting to work with UIW alumni, both in the classroom and in leadership roles, as having enriched his experience as a professional through networking and making long-lasting connections.
"Being at UIW has taught me important skills required for teaching," said Gonzalez. "I have been able to learn how to create engaging lesson plans and have a better understanding of how good teachers can make a positive impact. As a teacher, it is my job to be a great role model for our students and always push them towards success."
Valeria Hernandez is also one of Campos' students working at Medio Creek through the partnership. She is working towards her bachelor's degree in Elementary Education with a minor in Reading, Special Education and Psychology.
Hernandez works with students at Medio Creek who have been diagnosed with autism. She described her time as a great learning experience, putting what she has learned in her classes at UIW into action.
"With UIW being a smaller university, it allows the student groups in the classroom to be smaller and allows closer instruction. I've learned that small group instruction not only works for me as a student, but also as a teacher and allows me to provide better instruction for my students," says Hernandez.
Three generations of UIW alumni and students are active at Medio Creek. 
"Perhaps the finest benefit of the UIW/ Medio Creek partnership is that the principal is unfailingly enthusiastic about a UIW presence at her school. Because she is proud of the rich learning environments and opportunities at her school, she welcomes future teachers with open arms. She understands the value of her school and wants to help our students learn as much as they can from the wisdom of her faculty," noted Campos.