June 3, 2022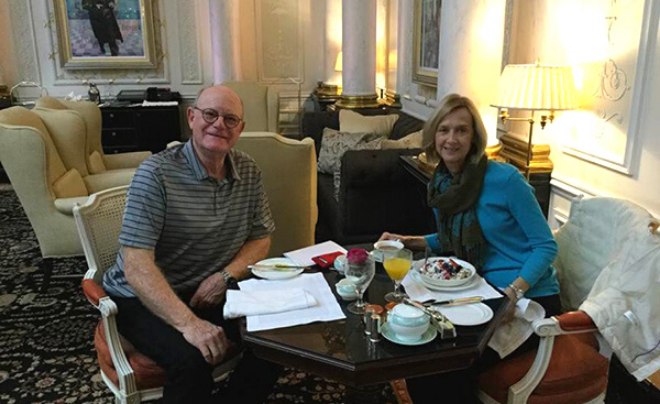 Once in a while, a story comes along to restore our trust in a plan greater than ourselves. The history of the Reininger family and the University of the Incarnate Word, is one such story.
The history of Peter Reininger, a leader of the UIW Grounds team and HVAC Superintendent who retired this week, and his family, has interwoven with the history of the Sisters of Charity of the Incarnate Word, the University, and their respective missions for generations. Their story, which begins more than 130 years ago, has seen five generations of their family leave their mark on the Incarnate Word community. Their remarkable story of divine providence began with an act of compassion.
In the late 1800s, the Sisters of Charity of the Incarnate Word were moved to open an orphanage, and in doing so, they gave care and housing to many young orphans without a family. Among them were three children – Ernestine Rose, Viola and CJ. Now under the care of the Sisters, the children's newfound friendships would sustain them, and in the cases of Viola and CJ, would eventually bring them together in marriage. The two were married on the Incarnate Word campus on August 25, 1915.
"The Sisters built them a home on campus, and CJ worked for the Sisters all his life," Reininger shared of his grandparents, CJ and Viola Collins.
CJ and Viola would have a daughter, Margaret Collins, and she would go on to marry Marvin Reninger. Marvin, just as CJ did a generation before him, would serve the Sisters for years, eventually retiring in 1984.
It was during his father's tenure working for the Sisters when Peter Reininger met a young woman on the campus of what was then called Incarnate Word College, now UIW.
"Nancy and I met on campus in 1970 while I was helping my father, Marvin," explained Reininger.
Unbeknownst to him at the time, Nancy also had her own connection to the Sisters of Charity of the Incarnate Word and even to his beloved grandparents. Her great grandmother was Ernestine Rose, the third orphan that the Sisters cared for so many years ago. Ernestine Rose continued her decades-long friendship with CJ and Viola. She was even present at their 50th wedding anniversary celebration, with Nancy in tow. Five years after the party, Nancy and Peter would meet.
They wed on the Incarnate Word campus on August 25, 1972 – exactly 57 years after his grandparents. They welcomed a daughter named Heather who would go on to study Education at UIW, graduating in 1998.
Still, the journey of connection with the University community and the Reininger family continued.
"I joined Dr. Agnese's (former president) and Steve Heying's (former director of Facilities Management) team on November 1, 1999, when the Natatorium was under construction," remembered Reininger. A new swimming facility was certainly cause for celebration. "When it eventually opened in the spring of 2000, I remember that afternoon as it were yesterday … I felt so at home seeing so many familiar faces."
Reininger recalls that it was that scorching day when the course of the University's construction protocols regarding air conditioning changed. It was May in San Antonio and the need for better temperature control was clear.
"From that day forward, we designed buildings to have comfortable inside desired temperatures according to the extreme high ambient temperatures," he explained. Reininger's designs and influence are felt in every building on campus, but his favorite project during his time at UIW was his work on the University's School of Physical Therapy, for which he and Heying served as general contractors.
"Here we turned an old, vacant Albertson's into a campus," he marveled. Today, that building hosts new cohorts of future physical therapists who support the Sisters' mission to extend the healing ministry of Jesus Christ.
Generations later, the Reiningers never forgot what the Sisters meant to those three orphans more than 130 years ago, and subsequently, what they mean to their descendants today. Serving the Sisters became a family affair. The dedicated support that CJ, Marvin and, later, Peter offered to the Sisters' and their ministries culminates with Peters retirement this week.
The Collins/Reininger story is as remarkable as the people who lived it. The good that came from the meeting of three orphans in the 1880s is immeasurable, helping to extend the good works of the Sisters and all who benefit from them – thanks to a little divine intervention.