May 13, 2022
Dr. John Pham and Dr. Javier Clavere Set to Head Respective Programs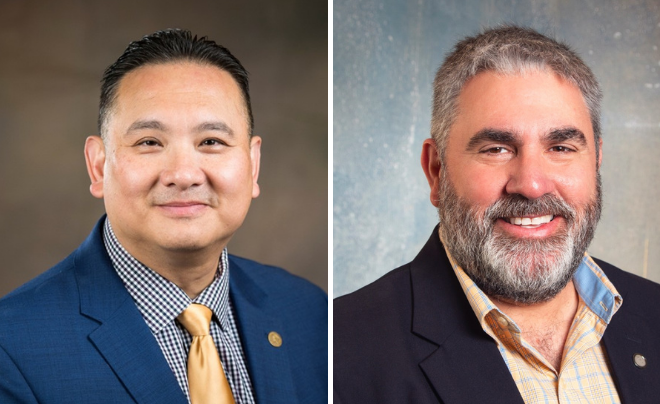 San Antonio – The University of the Incarnate Word (UIW) is proud to announce the appointment of two new Deans. Dr. John Pham will head the UIW School of Osteopathic Medicine (SOM) and Dr. Javier Clavere will take over as the Dean of the College of Humanities, Arts and Social Sciences (CHASS).
Dr. John Pham is currently the Vice Dean and Associate Professor of Family Medicine, Western University of Health Sciences College of Osteopathic Medicine of the Pacific Northwest in Oregon, where he also serves as Medical Director, Preceptor and Family Physician. He immigrated with his family from Vietnam to Portland, Oregon in 1975. Pham opened a solo practice in Portland where he served many 1 st and 2 nd generation Vietnamese families. His work earned him D.O. of the Year from the State Association in 2010 and Mentor of the Year from the American Osteopathic Association in 2007. His love of teaching led him to Western University College of Osteopathic Medicine – Northwest in 2011.
"I am absolutely delighted that Dr. Pham will be joining the UIW family as the next leader of the UIWSOM," says Dr. Caroline Goulet, associate UIW provost, Health Professions. "His passion for teaching and mentoring and his dedication towards community health were a perfect fit for the Mission of the University and that of the School of Osteopathic Medicine. I am looking forward to collaborating with him and the other Health Professions deans in co-creating a virtual UIW College of Health Professions."
Dr. Javier Clavere currently holds the McGaw Endowed Chair position and serves as the chairman of the Department of Music at Berea College in Kentucky, a position he has held since 2018. He is directly responsible for assessing the music programs, managing budgets and resource allocation for sixteen endowed accounts, and conducts alumni and donor outreach to promote engagement with and secure funding for the music department. Throughout his career, Clavere has distinguished himself in his discipline as well as in higher education leadership and he is the recipient of several prestigious awards as a result.
"We are blessed to welcome Dr. Clavere as the new Dean of CHASS," says UIW Provost Dr. Barbara Aranda-Naranjo. "He brings to UIW a rich career in liberal education as well as unique gifts for innovative leadership. We look forward to Dr. Clavere joining our community of faculty and the provost's leadership team to support the continued success of the college which has formed the enduring foundation of our great university."
Pham will replace retiring and founding UIWSOM Dean Dr. Robyn Phillips-Madson on June 15. Clavere will take over for CHASS Interim Dean Dr. Lydia Andrade on June 1.