UIW Student Turns Passion for Fashion into Blossoming Career
May 5, 2022
By Cari Gold
Andrea Rivera turned her part-time job at Target into a degree in Fashion Management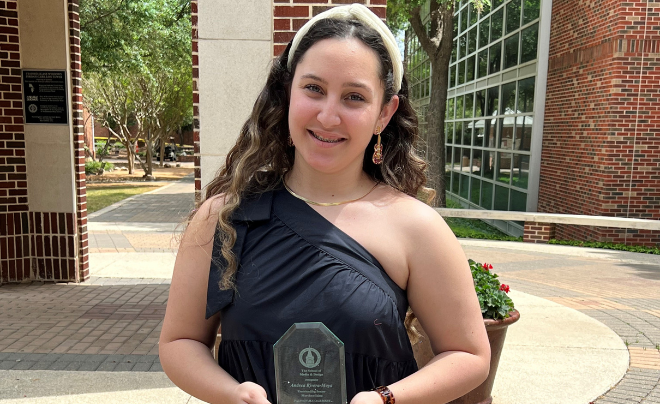 Coming out of high school, Andrea Rivera made it her mission to get through college. Now, she is preparing to graduate this weekend with a Bachelor of Arts in Fashion Management, a degree she earned while working part-time as a lead merchandiser at Target. She credits this position with allowing her to put into practice what she was learning in classes at UIW.
Rivera originally started working at Target four and a half years ago when she was in high school and looking to earn money for a trip to New York. But what started as a way to achieve a short-term travel goal ultimately enabled her to grow in the fashion industry, fulfilling a much larger ambition.
"I would say it was a lucky chance that I ended up at Target," noted Rivera. "I grew up going to Target because my mom actually works there too. So, when I got to the point of being able to apply, it was like I worked for them already. Target has not only become a part-time job, but an era of experience for me."
Rivera's long-term goal is to be a traveling merchandiser and buyer; her true passion is selecting collections and garments for a brand. Over the last four years, she has learned more about the fashion industry and has been able to apply what she has learned at UIW to her role at Target, and vice versa.
"I love working at Target because it allows me to apply techniques from all my classes to either work on the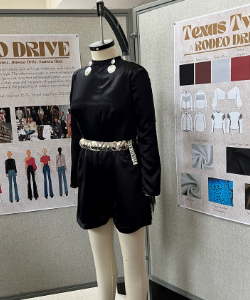 sales floor or evaluating sales," she explained.
But Rivera knew she wanted a career in fashion long before her days on the sales floor or the halls of UIW's Fashion program. It is a path she is confident will be fulfilling.
"From a young age, I loved clothes and playing dress up," Rivera remembered. "I knew that was going to be my career one day.
"If you are doing what you are truly passionate about in your career, it will never feel like work," she added. "We all have moments when we really don't want to go to work. But remember that it's temporary and you are working towards your future opportunities."
Attending classes full time while working at Target kept Rivera busy, but according to her, "it's all about your mentality and ambition." She carefully planned her course load and worked hard to stay organized to ensure she would be able to stay on top of everything.
She is achieving the goals she set for herself, and more. On April 22, 2022, Rivera was named Outstanding Senior in the Merchandising concentration at her senior showcase.
As Rivera looks to the next chapter of her life, her advice to those who are working on their goals is simple: "don't be afraid to give new things a try. You truly never know what you could be interested in, and you may find your passion in something new."