UIW Receives Major Donation For Future Doctors
May 13, 2022
Latest Donation from Seddon Family to Fund Scholarships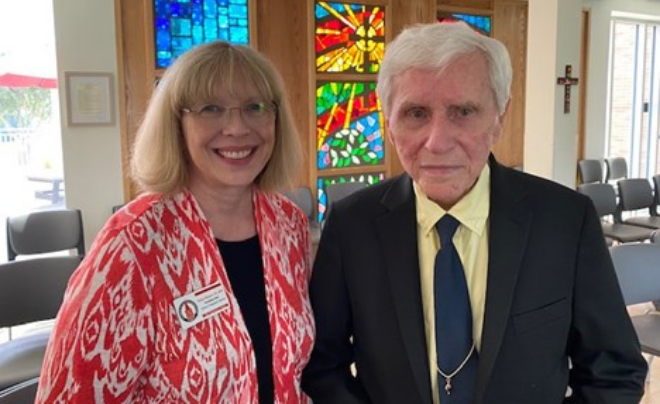 San Antonio – "Sometimes, God works in mysterious ways."
That's the way Robert Seddon characterizes the chance encounter that led his family to become so involved with the University of the Incarnate Word (UIW). It was 2012 and Seddon and his late wife, Ingrid, were attending their granddaughter's UIW graduation at the McDermott Convocation Center. Robert left his wife alone for a few minutes to figure out how the graduation was going to work. In that time, Robert says, Ingrid was approached by a stranger who told her the story about UIW's history and Mission. She came away so impressed, she told Robert the family should do more for the University. Sadly, Ingrid would pass a year later, but Robert wasted no time in fulfilling her wishes.
A decade later, thanks to the generosity of the Seddon family, UIW is home to the Ingrid Seddon Recital Hall and the Ingrid Seddon Endowed Voice Scholarship in Music. And just this past week, Seddon made his latest contribution that will change the lives of UIW students and South Texans. A $100,000 gift brings the total of the Ingrid Seddon Endowed Scholarship in Osteopathic Medicine to $400,000. It is the largest endowed scholarship fund benefitting students at the UIW School of Osteopathic Medicine.
"I'm glad we did it," says Seddon. "We got caught up with the virus when we first started talking about it and I was in my high eighties at the time, but I am glad we did it."
"Mr. Seddon's generous donation in memory and honor of his beloved wife will be used for scholarships for osteopathic medical students," says founding Dean of UIWSOM, Dr. Robyn Phillips-Madson. "These scholarships will enable student doctors to carry on Mr. and Mrs. Seddon's values of compassionate and holistic health care. We are grateful for this very special gift."
The new endowed SOM scholarship is a bit of a full circle moment for Seddon who says he had his own dreams of a life in medicine, until real life got in the way. But now, he says, years of wisdom and good fortune have brought him to this moment.
"When I grew up, osteopathy had a bad name," recalls Seddon. "I wanted to go into medicine, but I had to quit school and go into the service towards the end of World War II. I met Ingrid and we got married and had a son, so going into medicine did not fit. But now I believe Osteopathy is the future of medicine."
"I have been treated by several osteopathic doctors and they are all very good doctors."