May 2022 Academic Highlights
May 12, 2022
College of Humanities, Arts and Social Sciences
Theatre Faculty Featured at McNay Art Museum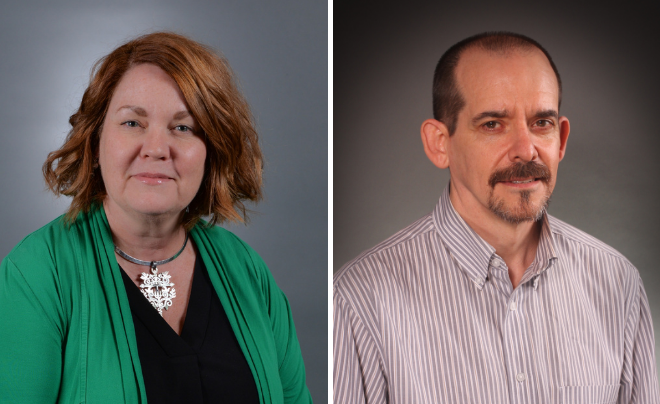 Margaret Mitchell, professor of Theater, and Christopher McCollum, senior instructor of Theatre, both in the College of Humanities, Arts and Social Sciences, are featured artists in The Great Stage of Texas exhibit at the McNay Art Museum. Their pieces are being featured until July 24, 2022, in the Tobin Collection of Theatre Arts and Brown Galleries. Both Mitchell and McCollum are members of the United States Institute for Theatre Technology (USITT). Mitchell currently serves on the Board of Directors for USITT. The USITT organization promotes dialogue, research, and learning among theater design and technology practitioners.
Mitchell's costume designs from UIW's Tartuffe are also in an international exhibition at the Centro Nacional de las Bellas Artes in Mexico City. The designs will be on display in May and June 2022.
McCollum created the scenery for the first significant production of the opera Little Women by Mark Adamo, broadcast on PBS' Great Performances, for Houston Grand Opera. He has received numerous awards for his design work in Austin, Memphis and San Antonio.
Students' Research Presented at National Psychology Conferences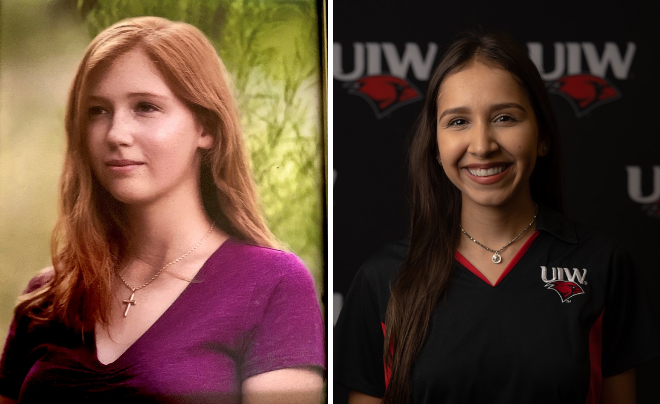 Faith Hopkins, a Rehabilitative Sciences student, and Vera Harris, a Psychology student, were primary authors of presentations at the Southwestern Psychological Association conference and Southwest Teachers of Psychology conference, respectively. Angelina Martinez, a senior who graduated on May 7, was also a secondary author on several presentations. All three students also presented their work at UIW Research Week. Although the students were unable to attend the conferences due to COVID-19 concerns prior to exams, Dr. Stephanie Boswell, professor of Psychology at UIW, presented on their behalf.
Hopkins was the primary author on a poster titled Genderflux: A systematic literature review and recommendations for future research, while Harris was the author of a poster called Psychology statistics syllabi's consistency with best practice recommendations.
Martinez was the secondary author on four presentations, including Texas minority-serving institutions and their faculty do not have lower Ratemyprofessors.com ratings (presented at Southwestern Psychological Association).
In addition to presenting for the students, Boswell had the following solo presentations for the Southwestern Psychological Association:
Consumerist evaluations influence students' intentions and expectations about professors' late-work policy exceptions
Effect of consumerist teaching philosophy statements on students' consumerist intentions and expectations
Dreeben School of Education
Education Faculty Member Works with Interfaith Youth Core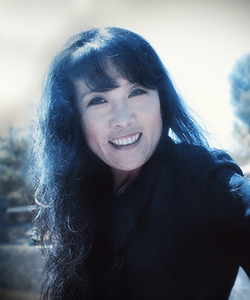 Dr. Ashley Love, associate professor in the Dreeben School of Education, was one of the Interfaith Youth Core (IFYC) grant recipients and was selected as an IFYC Faith and Health cohort leader. IFYC is a national nonprofit that equips the next generation of citizens and professionals with the knowledge and skills needed for leadership in a religiously diverse world. The IFYC funds a public health and faith project called "Creating a Hub for the Intersection of Religion and Public Health: Communication, Faith, and Connection for the Health of People Living in the San Antonio Area or Connected with the University of the Incarnate Word."
This cooperative and experiential learning project strives to empower UIW graduate students to discover the intersection of religion and public health, and to foster the incorporation of religious factors in public health education and practice. The focus is on the people and faith-based organizations that the communities trust. The main goals are to build on the existing faith-based initiatives in San Antonio, understand ways for students to get actively involved and learn, and find methods to measure the impact of UIW students' service, while seeking to understand and address the root causes of health disparities in ways that will transform communities and students.
Doctoral Student Earns Laika Scott Emerging Scholar Award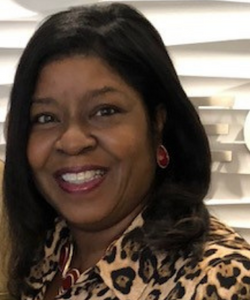 UIW doctoral candidate Doleatha J. Thomas is the recipient of the 2022 Laika Scott Emerging Scholar Award, presented by the Texas National Association of Multicultural Education at its 21st annual conference. This award is granted to a doctoral candidate who has begun to make significant scholarly contributions to the field of multicultural education or a closely related area of study. Thomas's nomination letter states, in part, that she "is an advocate for amplifying voices of communities that are historically ignored, overlooked and structurally marginalized. Currently, she is specifically exploring the lived experiences of African American women; how they leverage their degree and knowledge in support of other African American women who are walking (or contemplating) the same path, and how they perceive their institution values their experiential knowledge."
FSOP Students Head to Puerto Rico on Medical Mission Trip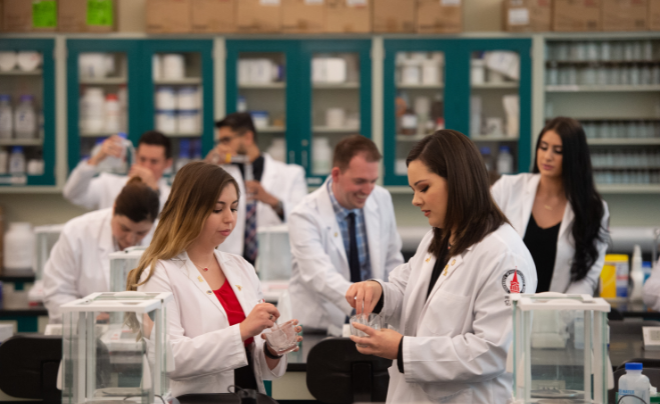 Ten students from the National Hispanic Pharmacists Association (NHPA) at the Feik School of Pharmacy are volunteering to serve the people of Puerto Rico at the "Center for the Elderly Celia T. Mondriguez" on a medical mission trip from May 16-19. The mission of the trip aligns with that of the UIW/FSOP's mission, which is dedicated to advancing the quality of healthcare in diverse populations.
The group is accepting monetary donations that will be used to purchase ancillary supplies for the glucometers (batteries, lancets, alcohol swabs) and blood pressure monitors (batteries), along with any personal hygiene items for the participants.
To donate, visit the UIW chapter of the National Hispanic Pharmacists Association donation page and click on Medical Service Mission to Puerto Rico Donations link.