Joining the Family: UIW Grads Finish MBA Capstone
May 6, 2022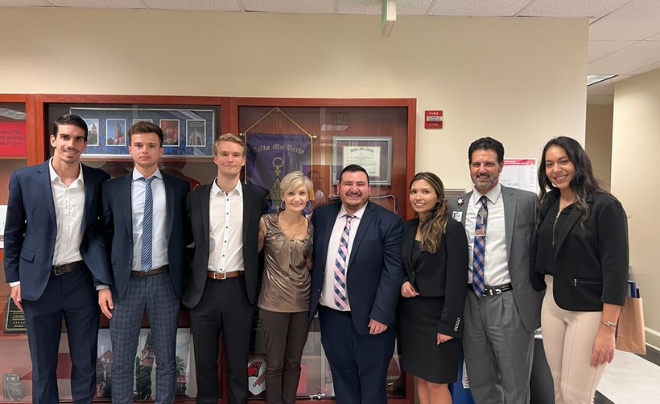 At the University of the Incarnate Word, there's a class like no other – the Master of Business Administration Capstone. A course anticipated by MBA students with both excitement and apprehension, the Capstone experience is said to be something that one cannot truly understand unless they've lived through it. Graduates of UIW's MBA program agree that to successfully complete the class is to join a family of few who can say they've done the same. But this week, as students in the course wrapped up final presentations and turned in 200-page books of analysis and strategy, a new cohort of MBAs is proud to join them. Leo Maltos, Barbara Silva, Diogo Seabra, Cedric Szymczak, Rosalie Gomez and Koen Vos are crossing that finish line hand-in-hand.   
The MBA Capstone brings real stakes to the academic setting. Dr. David Vequist, professor in the H-E-B School of Business and Administration, teaches the course. Every semester, he searches for real-world businesses, non-profits and entrepreneurs that students can take on as their clients for eight weeks. Student groups meet with their assigned clients to identify pain points or growth opportunities, then get to work researching and developing strategies, complete with intricate financial models, to present to their client, who often ends up implementing the students' suggestions.
Maltos, Silva, Seabra, Szymczak, Gomez and Vos were assigned to the Children's Bereavement Center Rio Grande Valley (CBC-RGV), a non-profit organization that provides free grief counseling to children. Recognizing a growing need for such services, CBC-RGV consulted with the MBA Capstone group to determine an optimal expansion site, considering all associated costs and the viability of fundraising opportunities in the new location, as well as other recommendations for improved operations.
"A successful expansion plan would allow the bereavement center to offer services to 1,437 children per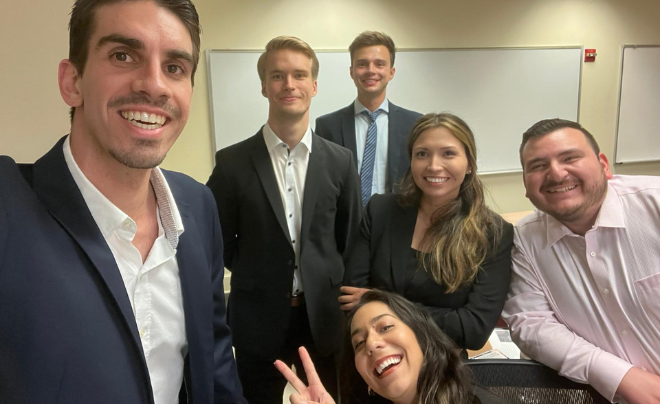 year by the end of 2025, and an additional 3,500 grieving children over the course of our 3-year plan," explained Syzmczak of the group's proposed strategy to relocate headquarters and open an additional satellite location.
The final proposal took weeks of work-filled nights, hours upon hours of research, countless group meetings, moments when the team thought it may be better to just start from scratch, editing and re-editing their financial model and a lot of caffeine. But in the end, the team knew they delivered something truly valuable, not only to CBC-RGV, but to the communities it serves.
"Aside from all the business expertise gained in strategic planning, we felt enriched with learning about the nonprofit realm and all the facets involved in this industry," Szymczak continued. "By understanding how the Children's Bereavement Center – Rio Grande Valley impacts many lives, we certainly experienced a rewarding feeling considering we could somehow positively influence their operations."
The group also learned more about themselves as individuals. In moments when the course tested their resolve, they had to push themselves further than they knew they were capable of.
"The most important aspect I learned about myself is that if I work hard and stay resilient, I can accomplish anything, especially when you have a wonderful team to support you," Maltos explained.
He found that wonderful team in his MBA Capstone group.
"From the first day that our group committed to developing the project, our relationship with each other has changed," reflected Seabra. He noted that to be successful, each team member knew that communication would be key and equal contribution was not optional.
"And the proof is that over time, we all became friends, more than just group partners," he added. "With all the demands that the project required, we were able to laugh and share moments of joy while working together. This ability to come together in support of the project and establish friendships was what allowed us to maximize the strengths of each of us and generate work that was both valuable and gratifying."
"I trusted this team with my eyes closed," Silva agreed. "I just knew they would deliver the best."
The group will cross the commencement stage together on Saturday, May 7, and when they do, they know they are forever bonded to their group partners and every UIW MBA graduate who came before them. After graduation, each member will go off to different places and take on new roles. Silva will return to her home country of Brazil to finally be reunited with her loved ones before settling down in the Rio Grande Valley. Maltos and Gomez hope to utilize their new skills with a career change. Vos is heading to Georgia where he'll work as a financial analyst. Seabra will travel to Portugal to visit family and friends before returning to San Antonio in July. And Szymczak has accepted a job with the City of San Antonio. While the future certainly looks bright, they admit it's bittersweet to be done.
"You invest so much time and effort in the class that you don't really take a break or realize how special what we're doing is," said Vos. "In a couple of years, when looking back at these last few months, I'm sure we will all be proud of what we accomplished."