Building Blocks: How the TRIO Program Helped a Student Succeed
May 11, 2022
TRIO participant and new alumna Daniela Gonzalez reflects on her time at UIW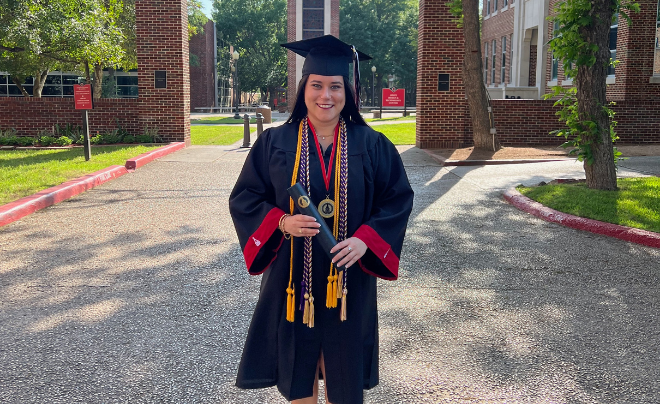 "The TRIO program gave me a great foundation from the very start of my freshman year."
Daniela Gonzalez graduated on May 7, 2022, from UIW's Bachelor of Science in Cyber Security Systems program. As a first-generation college student, she was excited about UIW's small class sizes, noting her love for the student-to-faculty ratio and access to her professors. But when she arrived for freshman orientation, she discovered another program that would help make her college career even better: TRIO.
TRIO, which is provided at no cost to students who qualify, is a graduation, retention and persistence program designed to help participants meet their academic goals and graduate. The program provides peer mentors, academic and personal advising, career preparation and much more. Through this program, Gonzalez found the additional support she needed to flourish.
"TRIO was a tremendous help personally and academically," commented Gonzalez. "Personally, I became a more confident person. With their tutoring services, I was able to get help with my classes. They were there to answer all my questions and helped me with time management to become more efficient with my time."
The program helped her adjust to college life, so when she had the opportunity to become a TRIO peer mentor and younger Cardinals, she jumped at the chance.
"I wanted to give back to the program that gave me so much," said Gonzalez. "I wanted to help other students succeed."
During her time mentoring students who reminded her of her younger self, Gonzalez relied on past experiences to share advice with them.
"Always ask for help," she shared. "There is always someone there at TRIO or at UIW who is willing to assist with any problem."
Ultimately, UIW's curriculum in Cyber Security, along with the support of the TRIO program, prepared her for an internship with the U.S. Department of State, which led to a full-time position with Raytheon Missiles and Defense.
As she prepared for graduation, Gonzalez reflected on her time at UIW. Whether it was in classes, through TRIO or in extracurricular activities, she will always remember the people she met and the experiences she had at the corner of Broadway and Hildebrand.
"My favorite memory is building long-lasting relationships with students and professors. I will always be grateful for what I learned at UIW, because it helped me become the person I am today."