World-Famous Tenor Performs One-Night-Only Concert with UIW Choirs
April 22, 2022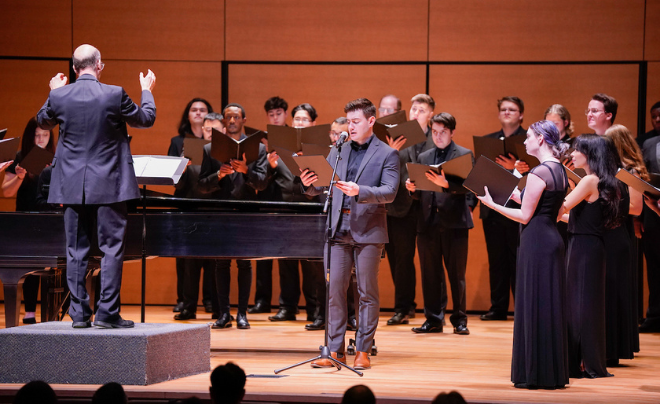 "May you be safe in the gentle, loving arms of God."
These lyrics and their accompanying melody, performed by world-famous Irish tenor Emmet Cahill, alongside the UIW Cardinal Chorale and University Mission and Ministry Laudate Choir, filled the Diane Bennack Concert Hall on Wednesday, April 20. Cahill, lead singer of Celtic Thunder, visited the UIW Department of Music for this special, one-night-only concert with the University's choruses.
"Our experience with Emmet Cahill was wonderful on many levels," reflected William Gokelman, professor and chair of the UIW Department of Music. "He is a consummate artist and a joy to make music with … The students responded beautifully in every way, and their singing matched the dedication and passion that Emmet brought."
Prior to the concert, the choirs, directed by Gokelman, had the opportunity to rehearse with Cahill, during which he commented on the ensemble's beautiful sound. "And I don't say that to everyone," he added.
After the afternoon rehearsal, Cahill took questions from students who were interested in learning more about his career and experiences on the world stage, including one Music Performance major who asked what advice he had to offer a soon-to-be graduate entering the industry.
"He shared with the students how he made practicing a regular part of his daily life, and some of what it takes to be a performer," explained Gokelman. "He also spoke about balancing all the demands of being a musical artist with everything else in life."
The concert consisted of several solo performances by Cahill, delighting audience members and Music students alike. The UIW choirs joined Cahill for three selections, one of which was "May the Road Rise to Meet You," a traditional Irish Blessing by Lori True, arranged by Gokelman.
"This performance was truly delightful for so many reasons," said UIW employee Megan Kuentz. "It was the first live concert I have felt comfortable attending since the pandemic, and sitting alongside the UIW community and the Sisters of Charity of the Incarnate Word made it remarkable and special. The performances of 'May the Road Rise to Meet You' and 'Isle of Hope and Fears' were especially emotional and impactful!"
Dubbed "Ireland's most exciting young tenor," Cahill has performed around the world on famous stages including a sold-out stop at New York's Carnegie Hall. His Irish album debuted at #1 on the Billboard World Music Charts with Sony Music USA.