Mission-Minded PharmD '22 to Join Humanitarian Effort in Ukraine
April 29, 2022
PharmD Graduate Candidate Already Set for Humanitarian Mission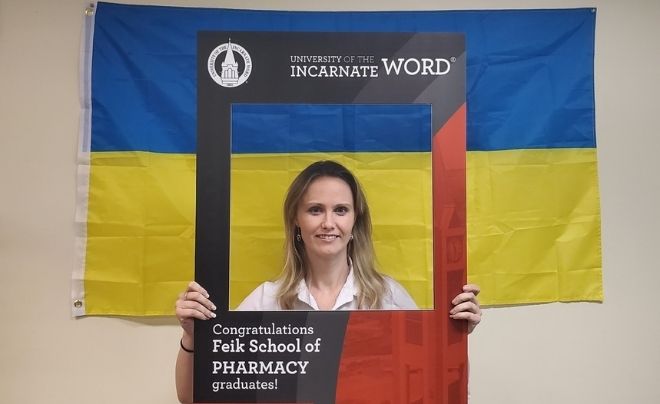 San Antonio – "I often watch videos with tears… of the bombed cities and the killed civilians and children."
Iryna Aniushkevich admits she spends a lot of time thinking about the war in Ukraine these days. The 32 year-old UIW Feik School of Pharmacy student is originally from Belarus, but her ties to the neighboring country of Ukraine run long and deep.
"During my childhood, we often went to Ukraine for shopping or traveling," says Aniushkevich. "My aunt and her family have lived in Odessa, Ukraine for more than 15 years and my stepbrother serves in the Ukrainian Navy. The attitude of local people has always been friendly and polite. I constantly follow the events in Ukraine online and call my relatives there."
While Aniushkevich remembers the Ukraine fondly, she says she does not feel the same about her home country of Belarus. As a matter of fact, she credits a summer program for changing her outlook on what her future could hold far from her homeland. That program allowed her, as a young girl, to spend one month for five straight years with a family in Italy.
"Seeing freedoms and democracy at a young age contributed to big dreams for a better life with choices and opportunities and developed resentment toward the dictatorship in my country. Living in Belarus doesn't bring me any pleasant memories besides my athletic accomplishments and overall sports mindset of hard work and determination that ultimately have led me to the U.S."
It's the discipline instilled by sports that Anuishkevich says gave her the confidence to move to the United States more than ten years ago. She made that move alone, not knowing any English. She eventually found her way to Texas State University in San Marcos. It was there she earned a Bachelor of Science degree in Biochemistry and the road to UIW soon followed.
As Aniushkevich explains, "The knowledge came naturally to me and the desire to integrate my skills into improving patient care drove me to pursue a graduate degree. I applied to UIW because the curriculum has a block schedule and the school portrays the family-oriented feel I was looking for."
And Aniushkevich is wasting no time putting her knowledge, and her expected Doctor of Pharmacy (PharmD) degree, into action. Already active in her support of Ukraine and a regular at rallies against the war, she has now signed on with a nonprofit called International Medical Relief (IMR). She plans on leaving for a humanitarian trip to the Ukraine right after her graduation this May.
"I have collected a significant donation through advocacy for the trip and for essentials requested by the organization such as medications, medical supplies, equipment and more to provide care for the underserved and vulnerable people of this community," says Aniushkevich. "IMR recruits qualified health care professionals into teams and offers short-term volunteering assignments that enable medical care that is limited or difficult to obtain. As a member of this medical mission team, I will be part of a global relief program elevating the long-term impact of sustainable, capacity-building efforts that improve the health, wellness and quality of life of those most in need."
Filling a need and fulfilling the Mission of the University of the Incarnate Word is her focus now, as she works to help heal the wounds of her childhood home.
"I have developed clinical knowledge and professional skills during four years of education while remaining academically near the top of the class," Aniushkevich concludes. "I believe UIW has prepared me well to continue independently and progress further in the future."