UIW Receives Sustainable Business Certificate, Announces William Mulcahy Awards on UIW Earth Day
April 22, 2022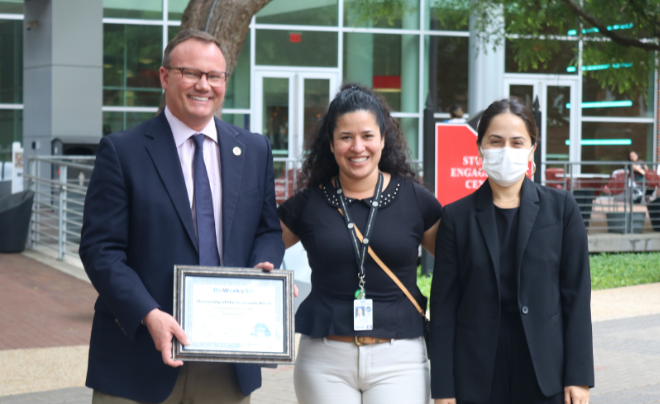 The UIW Community celebrated Earth Day on Wednesday, April 20 with a fair held in Westgate Circle. The fair, which focused on sustainability, featured 10 local organizations, businesses and UIW student organizations who shared various ways to care for the environment.
At the conclusion of the event, UIW President Dr. Thomas M. Evans accepted the Silver Certification from the City of San Antonio for UIW's completion of the ReWorksSA program. This certification is a first step on UIW's commitment to the Laudato Sí Action Platform, which implements in Catholic institutions Pope Francis's call toward sustainability in the spirit of integral ecology.
The chair of the Sustainability Advisory Board, Dr. Ben Miele, said overall, the event "was a rousing success and signals a bright future for sustainability at UIW, especially since it displays the enthusiasm among students, faculty, and staff for more robust investment in sustainability, notably with regard to the overlap between environmental justice and social justice."
"It was important for me to volunteer at the event because if I want to see a greener world where people care about the environment, I believe I have to be part of that change", noted Andrea Jackson-Gomez, a student in Ecocriticism this semester. "And a good way to do it is by stepping out of my comfort zone and inviting my friends to do the same. I hope that people in my booth learned that taking care of a plant is a little challenging, but it is worth it. And that UIW is doing things to make the school a more sustainable place." 
Dr. Lourdes Fortepiani, professor in the Rosenberg School of Optometry, and Mauro Medina, UIW Facilities, were presented the William Mulcahy Awards for Ecological Stewardship. This award was created in 2007 in recognition of grounds superintendent Bill Mulcahy's leadership in ecological conservation and care of the land at UIW. Each year, nominations are submitted to the Earth Month Committee, which selects two nominees to receive this award, one faculty member and one staff member.
Fortepiani was instrumental in getting the Sustainability Studies concentration up and running and in organizing the first Faculty Orientation Workshop for the Sustainability Studies concentration, while Medina has been a key player in helping revive the UIW community garden after recent inclement weather.
Booths at the UIW Earth Fair:
Nutrition at UIW
Rooted Vegan Cuisine
Pure Aloha Bath and Beauty
Headwaters at Incarnate Word, Inc.
Sustainability Education Committee - Educational Display
UIW Sustain
Rosenberg School of Optometry
Black Llama
iHouse
Nutrition and Dietetics Society
The Earth Day celebration is important to the UIW community as it encompasses care of Creation and contributes to promoting the UIW Mission among students and the broader San Antonio community.