Students Find Success at National Association of Teachers of Singing Conference
April 18, 2022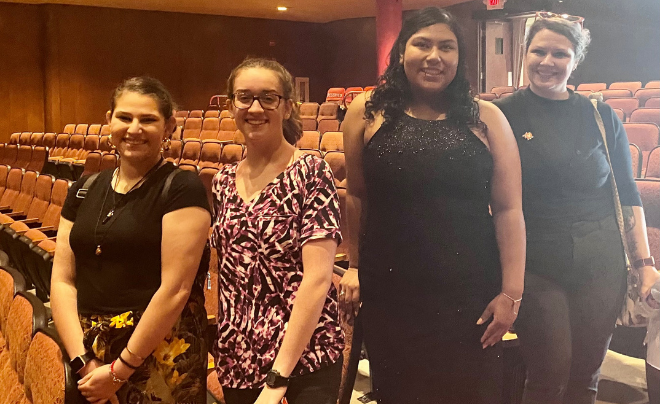 Eight students from the University of the Incarnate Word Department of Music attended and competed in the South Texas Chapter of the National Association of Teachers of Singing (NATS) conference. The students traveled to Del Mar College in Corpus Christi on Saturday, April 9 for the annual competition. The NATS mission is to advance excellence in singing through teaching, performance, scholarship and research.
Each student competed in his/her respective categories, designated by semester of voice study and age, and were accompanied by UIW piano instructor and collaborate pianist, Dr. Ara Koh. Additionally, three UIW voice area faculty members – LaDawn Peterson, Dr. Wayne Davis and Dr. Orit Eylon – served as judges for other categories.
Roberta Ramos (adult beginner) placed third, while Stephanie Huskin (adult beginner) earned a spot as a semifinalist. Both study under Eylon. Veronica Perez, a student of Davis, was also a semifinalist in her category of 11B Fourth/Fifth Year College/Independent Studio Treble Voice.
"I cannot stress how proud I am of our voice students at UIW," stated Eylon. "This is a highly competitive competition, and the students did an excellent job of representing themselves and UIW, especially after not being able to compete in person for over two years."
Additional students who competed include:
Alicia Aguilar (11B Fourth/Fifth Year College/Independent Studio Treble Voice)
Jessica Musa (11B Fourth/Fifth Year College/Independent Studio Treble Voice)
Anna Vinklarek (7A First Year College/Independent Studio Treble Voice)
Ayesha McCaulley (11A Third Year College/Independent Studio Treble Voice)
Paulina Megenhard (9B Second Year College/Independent Studio Treble Voice)