April 29, 2022
UIW students are engaging communities to become better prepared to work in the healthcare industry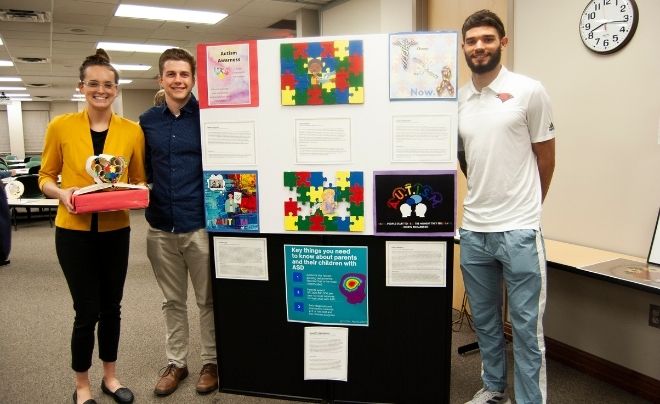 "This is an opportunity for these students to really connect emotionally with a patient population group who has been wounded, to some degree, by the experiences that they've had."
That is how Shandra Esparza, EdD, ATC, LAT associate professor and program director/division chair in UIW's Ila Faye Miller School of Nursing and Health Professions, described the Cultural Issues in Healthcare and Professional Development classes she teaches.
In Fall 2020 and 2021, and Spring 2021 and 2022, Esparza and Alfredo Ortiz Aragón, PhD, assistant professor in the Dreeben School of Education, partnered to create a curriculum called "Rewriting the script for equitable healthcare" that would use community-based action research to generate conversations and lead to action to improve health outcomes of traditionally marginalized communities. These conversations take place between pre-healthcare students and members of the community, ideally benefiting both the community and the learning needs of the students.
"We are trying to get the community into the classroom and take the classroom into the community in non-extractive ways that generate mutual benefit and increased empathy between students and the communities they will ultimately serve," explained Ortiz Aragón.
For the past two academic years, students have partnered with LGBTQ+ community members and parents of children with autism – two groups that have often struggled to access equitable treatment in the healthcare system. In the fall, the Cultural Issues in Healthcare class engaged these community members to discuss their adverse experiences and consider how they could have been different – effectively "rewriting the script" in the process. The students and community members then created pieces of art or other visuals that can be used to engage others who could benefit from learning about these experiences.
In the spring, those same students took the Professional Development class and talked about how they can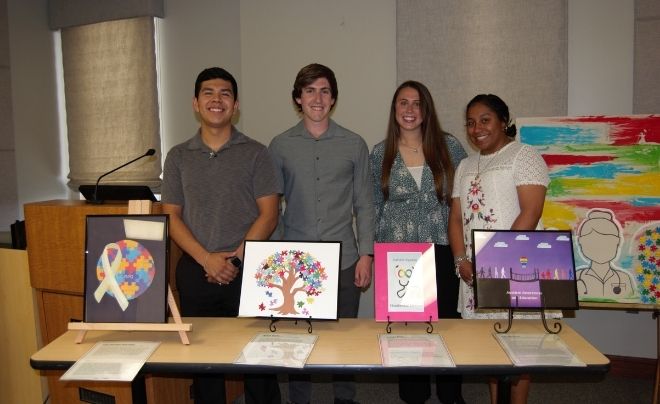 implement the ideas they theorized in the fall, including by using their art for advocacy purposes.
In the most recent iteration of the process, the students worked with parents of children with autism who were already engaging with a digital storytelling project led by Michelle Vasquez, a UIW doctoral student studying action research with a focus on autism. This project also included active collaboration with Any Baby Can, an organization that helps parents raising a child with special healthcare needs and the City of San Antonio's Healthy Neighborhoods program (who co-led the LGBTQ+ community engagement). Funding support was provided by the Robert Wood Johnson Foundation and the Social Security Administration's (SSA's) Analyzing Relationships between Disability, Rehabilitation and Work (ARDRAW) Small Grant Program.
The class culminated with an art gallery advocacy event in the Children's Hospital of San Antonio (CHOSA) lobby, featuring the art and community backstories in an active engagement between the students, parents and healthcare professionals. The art gallery opened on April 27 and will remain open until May 20.
But the class is not primarily about the art. The art is a tool for learning, explained Esparza. The class truly embodies the UIW Mission, using artistic expression "to educate men and women who will become concerned and enlightened citizens."
"It's more about taking this experience with them to their healthcare school," said Esparza. "It is that emotional connection, an empathetic connection with a patient group that the students may not have experienced before. It really gives them insight into understanding that there's always more to a diagnosis, and that people aren't just diagnoses."
"The art allows the stories to travel and provides new language to express health inequities that many people can't hear otherwise," added Ortiz Aragón. "The science of healthcare and sociology of inequitable treatment can be powerfully communicated through art advocacy."
In addition to teaching empathy, Esparza shared that students came to more fully understand that not everybody has the same healthcare experiences. These disparities are often based on numerous factors, including insurance, or having to rely on public transportation to get to the right doctor.
Liam Capobianco, a senior Rehabilitative Science major, appreciates what he learned in the class.
"The experience and exposure to the disadvantages the autistic community faces in relation to the healthcare world is very eye opening," stated Capobianco. "This is an experience I will take with me long after I leave UIW, and I am very grateful to be exposed at such a young point in my career. I plan to spread the knowledge and educate those around me in the future to promote change and bridge the gap between providers and patients that face disadvantages."
"My biggest takeaway from this experience is that we are the future of healthcare," added Annie Kramer, a junior Rehabilitative Science major. "If we commit to our patients by connecting through knowledge, accepting through active listening, and providing for what they need, we will be the change."
The students are not the only ones transformed, added Esparza. Members from both community groups have expressed hope for the future.
"As a parent, our only hope to change the roadblocks of healthcare and autism is to teach future healthcare providers of our struggles," commented a parent from this year's class. "These young healthcare providers have so much potential to impact true change by working with families of autism to enact an overall change in the treatments and care they will provide."
"The groups have hope that there is change, and there will be a different future for their kids, for themselves, depending on the population group," stated Esparza. "But knowing that these young people care, and they're going to be healthcare providers, and they want to learn… It's really done a lot for the community members to feel like they're being heard."