Part of the "Pharmily": JD Fields Prepares to Graduate
April 14, 2022
As JD Fields prepares to graduate from the Feik School of Pharmacy, he reflects on why he chose UIW and what he has learned along the way.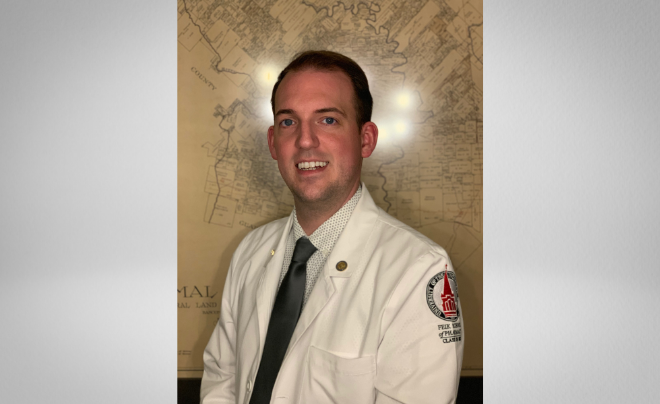 "By the end of interview here at the Feik School of Pharmacy, I knew that this was the institution for me - a faith-based learning program with faculty who teach with compassion and expertise."
JD Fields, a PharmD '22 candidate preparing to graduate on May 7, knew what he was looking for when applying to pharmacy schools, and UIW's Feik School of Pharmacy checked all the boxes. He loved that it has a large array of affiliations with hospitals, both in San Antonio and around the state, as that would help him fulfill his goal of becoming a clinical pharmacist.
He was happy that it felt like home, and he also loved the didactic learning. Feik is a learner-centered community where attendees spend three years in the classroom and one year in rotations. These four years, Fields notes, have been some of the most influential in his life.
"Many faculty members within Feik have become personal mentors of mine and have helped to transform me into a future clinician," said Fields. "The School of Pharmacy has definitely instilled its tenets of education, truth, faith, service and innovation as I soon graduate and begin my residency training program."
Fields has been passionate about pharmacy since graduate school; he sees the field as serving a critical role in healthcare, not only in the community, but within the hospital setting as well. He is excited about graduating, he said, and becoming "part of a diverse medical team that can provide exceptional and compassionate patient care."
For the next two years, Fields plans on training to become a clinical pharmacist specializing in infectious diseases. Long-term, he wants to be a clinical pharmacist affiliated with a school much like UIW. His passion for pharmaceuticals goes beyond his own ability to practice in the field.
"I enjoy not only practicing pharmacy, but I enjoy teaching others as well," explained Fields. "I hope to incorporate teaching a new generation of pharmacists at some point in my career in the future."
But for now, Fields is excited for graduation and looking forward to his one-year residency program at Houston Methodist Hospital in the Texas Medical Center, his top choice. He attributes his success to the mentoring and teaching throughout his time at UIW.
"The Feik School of Pharmacy and UIW truly invest in their students to help them achieve their personal and professional dreams," added Fields. "The supportive faculty has helped me every step of the way during the last four years as I learn and take the right steps into becoming a great residency candidate, for which I will be forever grateful."