Oldest Residence Hall at UIW Reopens as Newest
April 18, 2022
Ceremony Opens New and Improved Dubuis Hall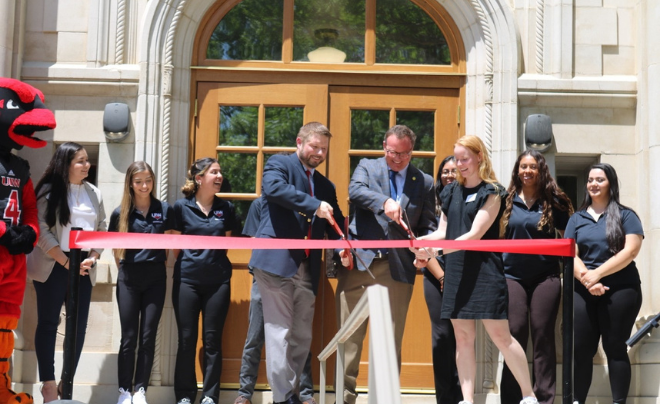 San Antonio – The University of the Incarnate Word (UIW) is proud to announce the reopening of the Bishop Claude Marie Dubuis Residence Hall on the Broadway Campus of UIW. The official ribbon-cutting and reopening was held on April 13, 2022. Built in 1928, the Dubuis Residence Hall has undergone major renovation over the past two years. Located in the heart of the UIW Broadway Campus, Dubuis Hall has been home to thousands of students over the past near century. Now, with reimagined rooms, high-tech study areas and outdoor spaces, the Hall is set to welcome students for decades to come.
Dubuis Hall is named in honor of Bishop Claude Marie Dubuis, bishop of Galveston, who in 1869 called the first Sisters to San Antonio from France. That call is at the root of the UIW Mission and is one that is still spoken today: "Our Lord Jesus Christ, suffering in the persons of a multitude of sick and infirm of every kind, seeks relief at your hands."
"His words, his legacy and the building that honors him all form part of our university culture and heritage," said UIW President Dr. Thomas M. Evans during the reopening ceremony. "Generations of students have lived inside these walls, so it was very important for us to keep its historic significance as we upgraded and readied it for generations more. Today, we are proud to share that the exterior of Dubuis Hall looks much like it did nearly 100 years ago, but the interior reflects a first-class living and learning environment."
The new and improved Dubuis Hall features renovated rooms, bathrooms and hallways, new furniture in rooms and lounge areas, electronic card access to doors and updated outdoor spaces for student gatherings and programming.
"Throughout the planning and renovation process it was extremely important to preserve Dubuis Hall to honor the history and legacy of its service to UIW, while updating for the needs of current and future generations of Cardinals," explained UIW Dean of Campus Life, Dr. Chris Summerlin.
It is expected that approximately 90 students will call Dubuis Hall home for the 2022 Fall semester.