Manifesting Your Dreams: UIW's Abigail Velez Becomes Miss San Antonio USA
April 21, 2022
By Cari Gold
Abigail Velez has dreamed of being Miss San Antonio USA for a long time; in April of 2022, she made that dream a reality.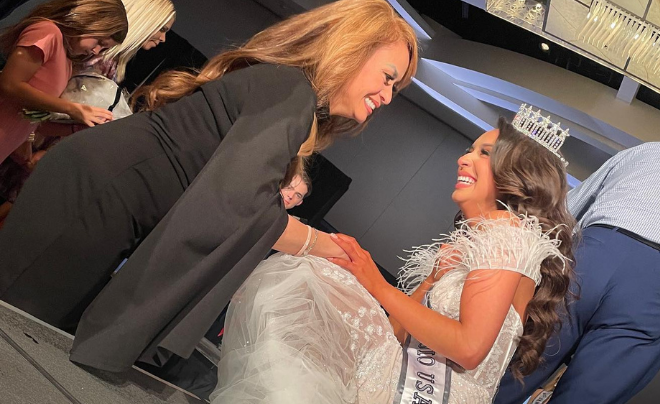 "Something my mom once told me became my mantra for this pageant, 'what God has for you, no one can take away.'"
Abigail Velez, a Communications Arts major at the University of the Incarnate Word and former Miss El Paso Teen USA, says she has never manifested anything in her life. But in the weeks leading up to the Miss San Antonio USA 2022 Pageant, she created a series of videos stating emphatically "I'm going to win." And, on April 2, 2022, Velez posted a TikTok that included those clips and concluded with her being crowned Miss San Antonio USA.
She has dreamed of that moment for a long time, noting that her approach to winning the crown was "trusting God, wholeheartedly."
The new Miss San Antonio USA transferred to UIW in the midst of the pandemic, completing her first semester remotely in her hometown of El Paso. Since she arrived on campus, she has been very involved in student life. She is a contributing writer of the Logos, UIW's student-run newspaper, a DJ at KUIW, the student radio station, a reporter for UIWtv, and an officer in the Student Government Association (SGA).
"I transferred to UIW knowing that I wanted to be heavily involved in UIWtv, as that is my career path, but once I stepped foot on campus, I realized how many opportunities there were for me to thrive," commented Velez. "I've always had a passion for serving my community, but I've become especially dedicated and passionate to serving my UIW community."
Through her involvement in the Communication Arts department, she has learned how to write news articles, host her own radio show and contribute through graphic design. With a goal of working as a multimedia journalist, this experience has been vital to Velez's growth at UIW.
"Being a key player of almost every organization in the Communication Arts Department, I've become extremely well-rounded," said Velez. "Now that I'm well versed in so many areas, I feel like I'll be a stronger asset in any job I take because of the skills I learned at UIW."
Velez is also the 2021-2022 chief of staff for the SGA. She has helped the organization host more than 30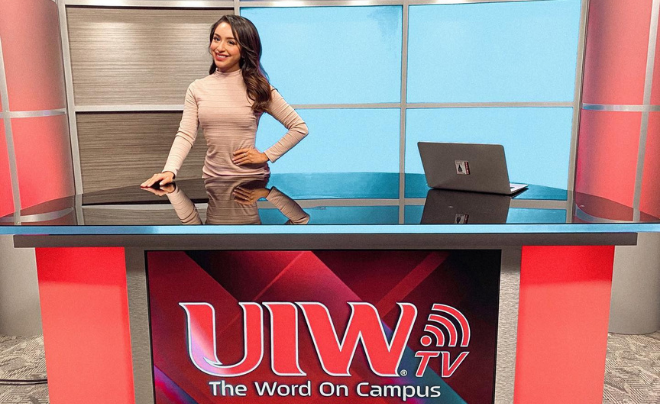 events since the return to in-person classes in the fall, creating lasting connections with the faculty and staff, as well as the Sisters of Charity of the Incarnate Word.
She loves connecting with students from each school and has been able to have important discussions about how UIW can help make each person on campus a better contributor to society, and she looks forward to continuing that work during the next academic year.
"Serving in the Student Government Association is really what solidified my love for this institution," said Velez. "Within my time in SGA, I have learned that every experience is what you make of it, and I'm ready to continue my work in the SGA next year as vice president."
In addition to serving UIW's SGA for another year, Velez is excited to help inspire and create change in the City of San Antonio. She has already started using her platform as Miss San Antonio USA to create a social awareness initiative called #ValueYourVote. She became a Bexar County Voter Deputy Registrar in January of 2022 and is excited to encourage her community to exercise their right to vote.
"Throughout my reign, I plan to make important connections with local politicians to hold voter registration fairs and talk about the importance of voting rights, along with making registration more accessible for seniors and minorities in San Antonio and surrounding areas," added Velez.
From the student newspaper to the SGA to competing in the Miss San Antonio USA contest, Velez encourages students to immerse themselves in both the UIW and San Antonio community and culture.
"Never be afraid to try new things and meet different people," added Velez. "You never know what connections you might make that could potentially change your life, just like attending UIW changed mine."