Hey Batter, Batter: Alumnus Joshua McMullen Helps Create MLB The Show 22
April 22, 2022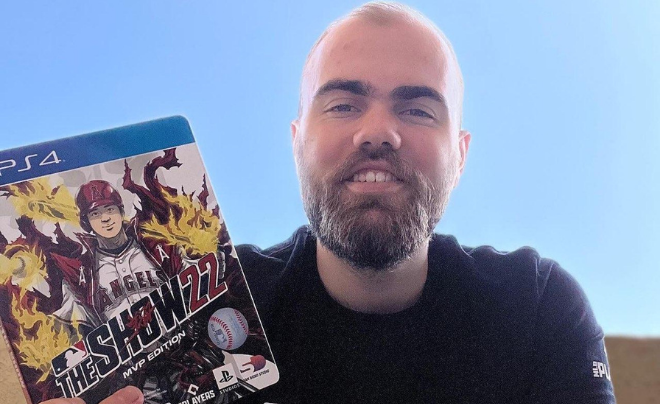 After graduating with a 3D Animation and Game Design degree from UIW in 2021, Joshua McMullen is living his dream as an associate animator at Sony San Diego Studio, a company that develops video games. On April 5, 2022, his year of hard work came to fruition as the company released MLB The Show 22 for multiple gaming devices.
We caught up with McMullen to discuss his role in creating the game, his favorite part about working on the game, and more.
Q: You were part of the team that created MLB The Show, a recently released video game. Can you talk about your role in the creation of that game?
A: For MLB The Show 22, I had the opportunity to work with the animation team as an animator. I worked with the team responsible for editing and creating accurate motion for players to deliver a realistic baseball experience to fans. I helped do the clean-up of motion capture animation data for batters, pitchers, coaches, fans, fielders, etc.
Q: What was your favorite part about working on MLB The Show?
A: My favorite part of working on this project was editing the motion, whether it's a pitch or a batting stance, for players that have become iconic to fans of the sport. Knowing that someone playing MLB the Show can get immersed in the game and see the same stances and pitches that their favorite players are doing in real life gives me a great sense of pride in my work. Getting to work on players past and present has not only grown my love of baseball, but my love for animation.
Q: What is your job title, and can you share any potential changes in that?
A: I started as a contract animator. However, I recently assumed the role of a full-time associate animator with San Diego Studio.
Q: What was your major at UIW, and how did the University help prepare you for the job you have?
A: While attending UIW, I majored in 3D Animation and Game Design. The University provided me with the environment and professors to feel an understanding of what the industry expects. Even though I am an animator, I have been given the knowledge necessary to efficiently communicate with other departments of the production pipeline. Likewise, I have been able to problem solve and produce the best work that I know I can produce thanks to the skills and lessons I learned along the way.
Q: What inspired you to go into video game production / or how did you find your passion for this?
A: I have always had a passion for playing video games and an interest in how they are created. I also have always had an interest in art and being creative. While in high school, I started looking for a school that would provide me with the skill sets necessary to get into the industry. When it came to looking for schools, I felt that UIW had the best program and was the perfect fit. Once I started at UIW, I immediately latched on and wanted to learn as much as possible. While attending UIW, my passion for video games and development only grew.
Q: What are your long-term career aspirations in the industry?
A: I feel very blessed to be able to get up every day and do what I love. At the same time, I feel a great sense of pride in the work that the team has put out to the world. I am grateful to the UIW 3D program for pushing me to be a better artist. I have felt more than capable of accomplishing whatever task has been put in front of me. Looking to the future, I aspire to be involved in many more productions and games to come.