Former Mexican President Vicente Fox Pays Historic Visit to UIW
April 1, 2022
Fox Talks Immigration, Leadership, and Enters into Agreement with the University of the Incarnate Word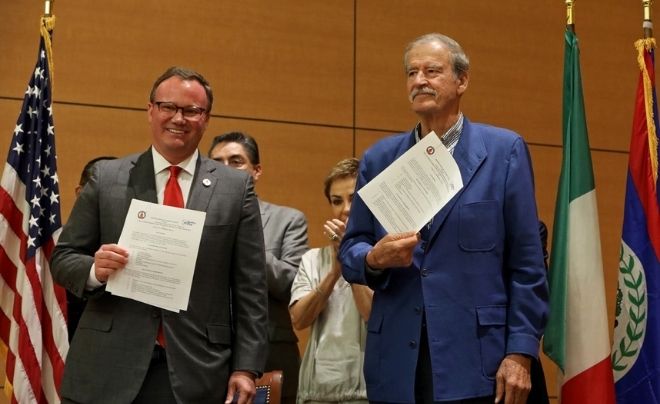 San Antonio – The Liza and Jack Lewis Center of the Americas at the University of the Incarnate Word (UIW) is proud to have hosted the first Leaders of the Americas Speaker Series on March 30, 2022. The series will allow the UIW community, students, faculty and staff to hear from dignitaries and statesmen who have impacted society through their leadership. The inaugural lecture was a historic moment for UIW, with Mr. Vicente Fox, 62 nd President of Mexico, delivering a speech titled "Immigration: Challenges and Opportunities for the Next Generation of Leaders." Fox's presentation also focused on leadership and, after the speech, Fox and UIW President Dr. Thomas M. Evans signed a historic memorandum of collaboration.
"You don't know how honored, proud, Marta and I are to be here with you," Fox declared to the crowd, referring to his wife, Marta Sahagún de Fox. "For this is such a special, gigantic plan, a strategic plan, that we have put together between you: the students, you: the teachers and faculty, you: the directors and executives of this great, great university. A university that is state of the art. A university that has a very clear understanding of how you educate, how you make great people, great leaders."
In addressing students, faculty and staff in the Diane Bennack Concert Hall, Fox addressed the qualities he believes make a great leader: purpose, compassion and enlightenment. He emphasized that, history has shown, great leaders can come from any part of the world with any level of education and that true purpose is only fulfilled by action. Fox also offered a "shortcut" to happiness saying that it is simply "doing for others."
When it came to immigration, Fox made it clear that "walls" will not solve the problem. He called on the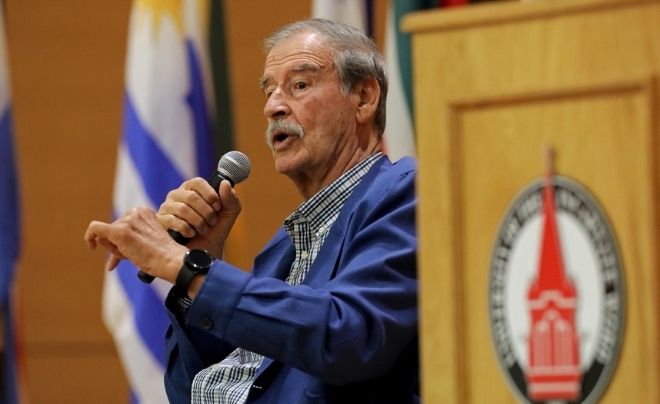 governments of both Mexico and the United States to continue to work together to come up with common sense solutions to the issue of immigration.
Mr. Fox's visit to UIW also served the important purpose of advancing educational programs and opportunities UIW will jointly offer with the Centro Fox, founded by Fox and Mrs. de Fox. The programs will initially focus on targeted trades and skill sets that respond to the needs of the underserved communities in Guanajuato.
UIW is invested in Mexico and its people. The Universidad Incarnate Word Campus Bajio resides just outside the fast-growing city of Irapuato, a vital point for the state of Guanajuato as well as the neighboring states Jalisco and Michoacán. Through bilingual and dual-degree programs that align with the region's economic, cultural and civic development, students are prepared to address evolving needs such as increasingly critical international mobility. The Foxes' establishment of their Centro in their home community of San Lorenzo, Guanajuato reflects a fundamental commitment they share with UIW, to improve lives and further educational opportunities in the communities they serve. Following Mr. Fox's speech, he and UIW President Dr. Evans signed a memorandum of collaboration in the interest of jointly developing the UIW/Centro Fox programs.
"It comes as no surprise that the mission of Centro Fox aligns deeply with UIW," says UIW President Dr. Thomas M. Evans. "At the heart of our University Mission is the charge to educate concerned and enlightened citizens in the global community. These are men and women who understand they do not reside in a world apart, but in an interconnected society. In keeping with the charism of our founders, the Sisters of Charity of the Incarnate Word, our students are challenged to see global issues through the lens of Catholic Social Justice and identify where and how they may serve the greater good."