Assistant Professor and Doctoral Students to Represent UIW at New York Conference
April 28, 2022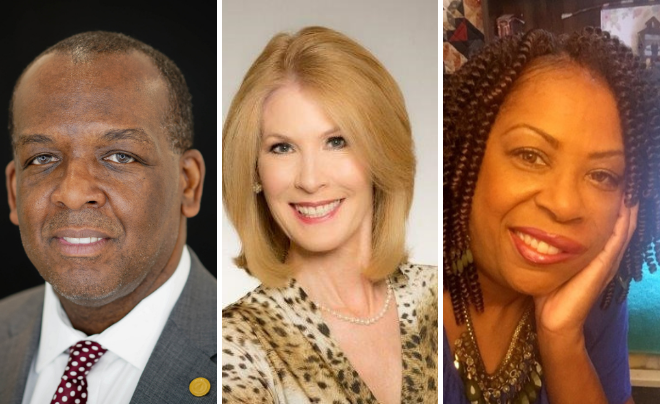 Lisa Brown, PhD, assistant professor of Graduate Studies Education in the Dreeben School of Education, along with doctoral students Jeff Neal and Pamela McCray, will co-present at The Learning Ideas Conference 2022, set for June in New York. Their presentation, "Creating Affective Collaborative Adult Teams and Groups Guided by Spiral Dynamic Theory," will also be shared virtually at Teachers College, Columbia University as part of the conference. The Learning Ideas Conference focuses on bringing together researchers and practitioners from around the world who are interested in using technology to improve education and workplace learning.
The presentation introduces Spiral Dynamic Theory, an instrument of course design scaffolding, for contemporary graduate-level courses that integrate technology, embodied learning and memetic ways of knowing. Adult learners bring a unique set of skills and life experiences that require pedagogical delivery methods that are unique to them as a learner group. The framework allows adults to recognize the deep value systems that play a role within group dynamics, such as distributive leadership and interpersonal relations, by meeting shared goals that are effective in both academic and work environments.
"Reimagining education and workplace learning are the focus of the conference," noted Brown. "As a scholar/practitioner, I advocate for learning that is specific to the unique learning styles and life experiences of adults. This conference allows us to share strategies that work and introduce emerging theories that speak to the complexity of our graduate students' lives and how UIW helps connect their learning needs to their educational goals."
Brown teaches master's and doctoral students in the Graduate Studies Program in the Dreeben School of Education. She earned her Ph.D. in Adult Education, Learning, and Organization Development from the University of Georgia. She joined UIW in 2021 and brings a wealth of experience and knowledge. She is currently working with researchers on a grant-funded study to explore reparations for Black American descendants of formerly enslaved persons in the United States.
"I look forward to expanding the use of the Spiral Dynamic Theory," shared Neal. "Using this framework helped me in my Effective Teams and Groups course. As adult learners, we could address cultural complexity and goal-setting more comprehensively. Our presentation team wants to share this innovative knowledge with others in higher education."
As a doctoral student in the Graduate Studies program, Neal is pursuing a concentration in Student Services and Higher Education Administration. He is a retired United States Air Force veteran who served his country for 24 years. His passion for education as a lifelong learner is to serve students in underserved communities, veterans' education, autism, and compassionate research, all by facilitating experiential learning processes inside and outside of the classroom.
"Education can be one key avenue to increase income (but not overall wealth)," explained McCray. "Nevertheless, advanced learning and knowledge acquisition has especially helped adults in marginalized communities to better participate in society economically by learning new skills for employment, accessing social services for health and community support, and engaging in critical community initiatives.
According to McCray, her experience as a former IBM Executive motivated her to pursue a Ph.D. with a concentration in Organizational Leadership and Evaluation. She leads by example, high outcome-based standards, team inclusion, diversity, and personal engagement, while relentlessly working to improve her professional and academic skills. Her commitment to academic excellence and community leadership is demonstrated through her philanthropic contributions and positions as a board member of two San Antonio non-profit organizations.
"My adult education courses challenge me to incorporate new ways of thinking and evaluate different approaches to problems outside of my traditional business lens," McCray added. "I am excited to share our presentation at the Learning Ideas Conference to generate additional insights and applications of the Spiral Dynamic Theory for adult education that furthers diversity and inclusion."