Aspiring Entrepreneurs Share Business Proposals at Pitch Competition
April 21, 2022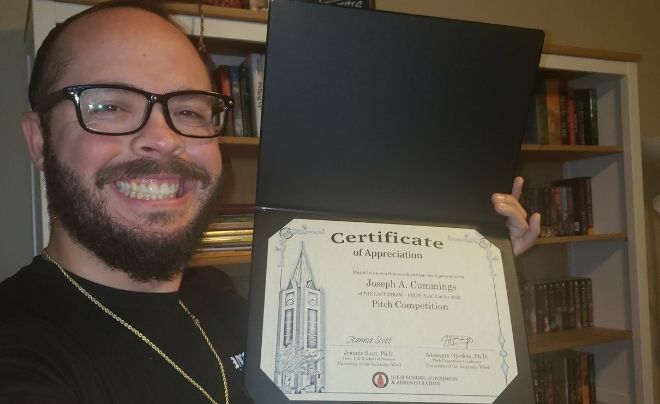 The University of the Incarnate Word H-E-B School of Business and Administration (HEBSBA) held its annual CEO Club Pitch Competition on Friday, April 8. Each year, the pitch competition allows student teams to share a problem they have identified and a proposed business solution to remedy the issue.
Through this competition, groups are selected to enter UIW's startup challenge; mentors work with the groups over the summer to prepare them to present their business ideas in the fall.
"For us, the pitch competition helps students get a head start on their projects before the fall semester," said Adesegun Oyedele, PhD, coordinator of International Business. "There is a heavy emphasis on interdisciplinary engagement with students, faculty, and mentors at the University, as well as at our UIW campus in Mexico."
After brief introductions, six teams had the opportunity to share their business venture ideas with a panel of three judges. Each team had six minutes to present, followed by a four-minute Q&A session with the judges. The judges then provided feedback to the students and awarded first, second and third place prizes.
Austin Cummings, a senior Nursing major planning to graduate in December, won the competition with his startup business proposal called The Last Straw. His business will seek to aid youth and elderly patients, as well as people with dysphagia, to more easily consume pill form medication with the implementation of a new tool.
"I can say that it came as an unexpected surprise to me that we won," Cummings reflected. "My mentor, Dr. Julio Lujan, has been the utmost supportive and motivational mentor anyone could ask for. Winning this competition gives me inspiration to find creative ways, even with the simplest concepts, to help change the world. This competition has given me a boost towards my growing career in nursing and in everyday life. I greatly appreciate this opportunity."
MOB – a company proposal by junior Business Administration major Bailey Schulze – finished second. Schulze shared statistics on the number of car crashes caused because of women in labor; her proposed solution is to create a siren that can be placed on top of the car to let other drivers know that a woman is in labor. The siren would sync to a mobile app, which would have the capability of alerting a hospital, as well as loved ones selected by the mother, that labor has begun.
Two business proposals – Pupup by Fabio Cattolico (sophomore Business major) and MyShuttle by Ruby Marie Filoteo (junior Graphic Design major) – tied for third place.
Pupup addresses the issue many dog owners have of finding friends for their furry companions. The mobile app would offer a main "dog profile" as well as an owner profile, allowing people to share photos of their pet and information on its personality and temperament. Through the platform, pet owners would be able to see other dog owners in their area to schedule play dates for their dogs.
MyShuttle seeks to help students have a better experience with campus shuttles. Through a GPS system, MyShuttle would allow users to track campus shuttles in real time. The app would be free for iPhone and Android users.
Additional Participants / Business Proposals
Steffen Stadler and Sophie Techeci / Trash Monsters

Trash Monsters is a series of rentable cans that encourages people to separate trash according to local recycling laws.

Daniel Garcia Martin / Blocky

Blocky is an app that addresses social media privacy and life engagement.
Judges
Denise Hernandez - Owner, the Eatery Culinary Group; Chairperson, Hispanic American Chamber of Commerce
Angie Gaona - Assistant Vice President, Vantage Bank
Ham Mantz - Adjunct Professor, HEBSBA
Mentors
Barbara Aranda-Naranjo - Provost, UIW
Julio Lujano Guitierez - Assistant Professor of Nursing, UIW
Karen Weiss – Professor of Nursing, University of Kansas Medical Center
Ammari Meerna – Instructor of Computer Information Systems, UIW
Stephanie Chong-Macias- Adjunct Professor of Chemistry, UIW