UIW Set to Begin New Occupational Therapy Program
March 25, 2022
New Doctorate Program Expected to Boost Care in South Texas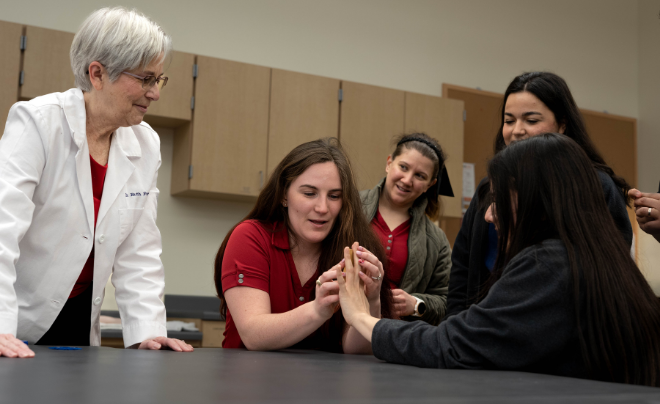 San Antonio – The University of the Incarnate Word (UIW) is proud to announce the start of the Doctor of Occupational Therapy (OTD) program. Under the guidance of Dr. Ruth Ford, the first director of the UIW OTD program, the University will be seeking full accreditation in May 2023 and will start accepting student applications for the program in July 2022 in anticipation of the August 2023 start date. The doctoral graduate program is comprised of 8 semesters, 112 credit hours, that can be completed full-time in 33 months.
"The Doctor of Occupational Therapy program is an important addition to our strong and diverse health professions degree offerings," says Dr. Thomas M. Evans, UIW president. "As our region grows, our programs prepare students to meet its expanding and critical healthcare needs."
The UIW OTD Program is designed to inspire learning and transformational knowledge for competency in clinical practice, administration, advocacy, education, leadership and research. Graduates can expect to have an exciting career working with patients ranging from newborn babies to seniors in overcoming challenges with performing meaningful activities or "occupations". The newborn's occupations are feeding and eating, gaining developmental skills, and starting to play. As the child ages, play and social skills are developed as part of normal growth and development. Teens with physical or mental limitations may need occupational therapy services to restore function to attend school, work, or sports. Teens and adults may want to drive a car with modified vehicle controls. Environmental aspects of the occupational therapy treatment plan may include ergonomic assessment and treatment or modifications to home, work, or school settings. An occupational therapist can fabricate splints to protect injured limb or enable function. Adaptive equipment is used to improve function. Occupational therapists work in hospitals, schools, outpatient clinics, rehabilitation centers, long term care facilities and community agencies.
"Occupational therapy is a health profession that helps people of all ages engage in meaningful activities," says Ford. "The occupational therapist has a rewarding career and enjoys the creative aspects of guiding others with physical and mental illness to find a quality of life."
"Ever since we started developing the Doctor of Physical Therapy program in 2011, our clinical partners have been asking about an occupational therapy program," says Dr. Caroline Goulet, UIW associate provost, Health Professions. "We knew that there was a community need for it. It is exciting to see an idea brought forth in the Fall of 2019, rapidly taking shape under the leadership of Dr. Ruth Ford. I truly feel that a divine intervention connected me with Dr. Ford. After visiting UIW, she felt the call and knew that this was an opportunity to make a difference in the lives of people in San Antonio."
Ford has 22 years of full-time academic experience in addition to her extensive involvement with master and doctoral level occupational therapy students through course work in kinesiology; anatomy; geriatrics; research; assistive technology; capstone mentoring, management and leadership. She has earned a Bachelor of Science degree in occupational therapy (OT) from The Ohio State University; a Master's in Biomedical Sciences in Rehabilitation Sciences from the former Medical College of Ohio (University of Toledo), and a Doctorate in Education from Bowling Green State University.
The Doctor of Occupational Therapy program will add to the current offering of health and health-related profession degrees at UIW, including: athletic training, community health education, health administration, music therapy, nuclear medicine, nursing, nutrition, optometry, osteopathic medicine, pharmacy, physical therapy, public health and psychology.